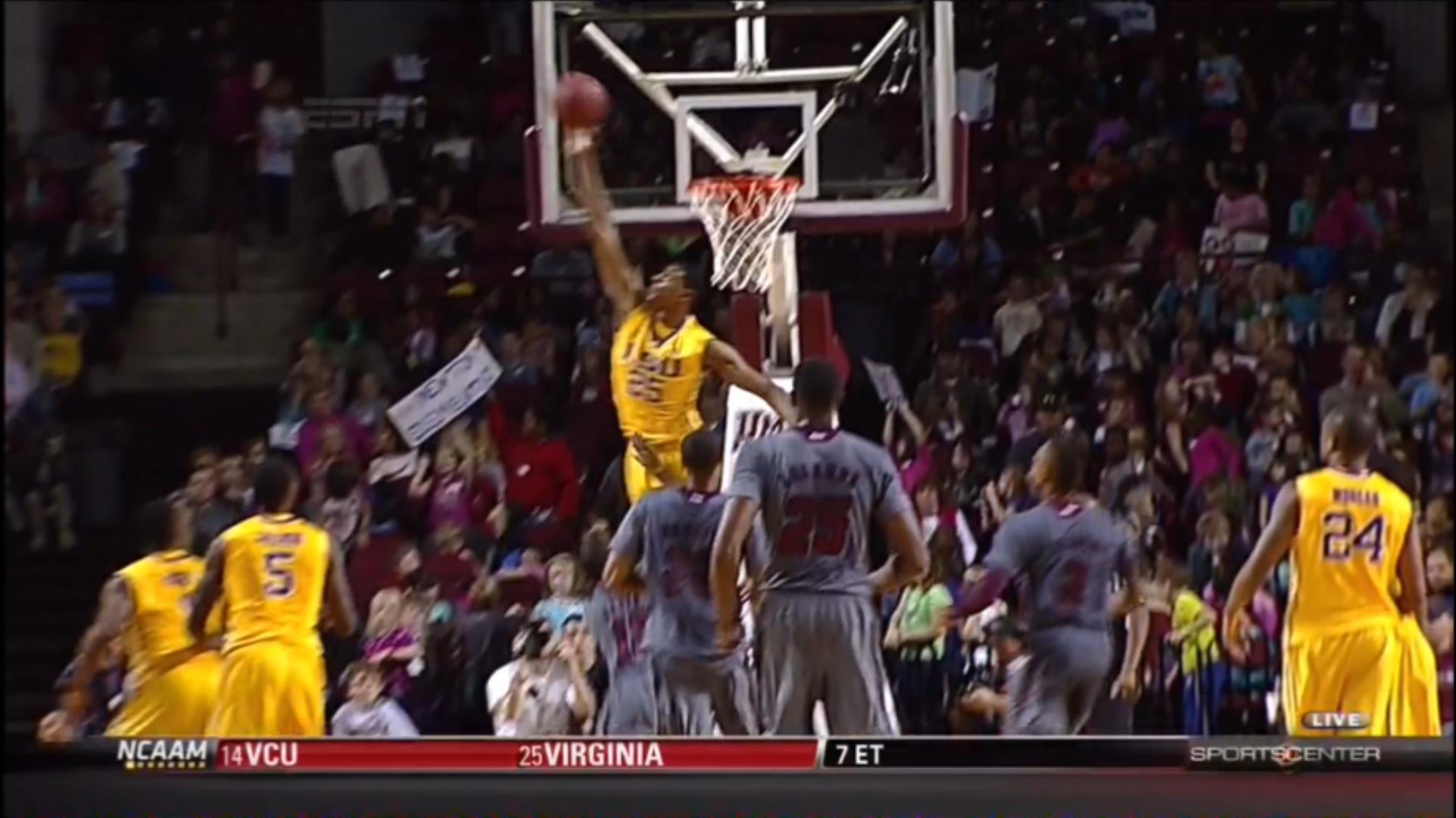 From the start, LSU was fighting from behind. Just 30 seconds into the game LSU lost Jarell Martin to injury. They also lost their only lead (3-0) of the game. From there on out, it was a struggle. Fouls limited many LSU players. The Tigers had 20 fouls in the first half. However, the referee's weren't the issue.

LSU went only 15 of 25 from the free throw line, including missing the front end of 4 one and one attempts. UMASS was 28-40 from the line. That is the difference in the game. Look at any other stat; LSU outrebounded UMASS 44-40. Had 2 more assists than UMASS. Had 2 more steals than UMASS. Had 3 more blocks, and were even with 13 turnovers for both clubs. However, the Tigers couldn't make free throws.

LSU had four players score over 16 points, lead by Johnny O'Bryant who scored 23. Andre Stringer chipped in 21 points while Mickey and Hickey both netted 16 points. O'Bryant and Mickey both had double-doubles adding 11 and 10 rebounds respectively.

All said and done, LSU was able to stick with a very impressive UMASS team without freshman phenom Jarell Martin. We learned that Mickey can play extended minutes without getting into too much foul trouble after his 38 logged minutes. His 5 blocks kept UMASS within reach. The Tigers just fell short.

This was a tough loss when you look ahead to selection Sunday. This gave LSU a chance to get a quality win on their resume. However, LSU still has some big games on their schedule to get excited about. St Joseph's and a possible matchup against Memphis makes the Old-Spice Classic an important late November battle. LSU also gets Tennessee, Florida, and Kentucky twice in their SEC slate.

Before the game I told myself that there was no "moral victory" to be had in this game, however after losing Martin in the first minute and playing in so much foul trouble, the young Tigers showed grit and determination. Make a couple free throws or another three pointer, and this game could have been a big victory. Tough to be upset at a team that hustled all game and worked their hardest.

There is plenty of promise for the Tigers. They were able to learn a lot about themselves, the fouling rules, and where they need to correct their gameplan. Chin up Tiger fans, these boys can play.

Player Grades:

Johnny O'Bryant (A-) - O'Bryant was a force all morning finishing with 23pts, 11rebs, 2blks, and 2asts. However, O'Bryant went 5-10 from the free throw line and missed the front end of one and one shots twice.

Jordan Mickey (A) Mickey filled the stat sheets in his first career start, including a double-double. Had 16pts, 10rebs, 5blks, and 1ast.

Tim Quarterman (C+) Quarterman struggled in his first game. He did score LSU's first points and didn't commit a turnover, but he seemed to slow LSU's offense to a crawl when manning the point. 5pts, 3rebs, 1ast, 1blk.

Andre Stringer (A) Stringer played great. He kept LSU in the game for stretches of time and was perfect from the free throw line (4/4). 21pts, 6rebs, 3ast, 2stls.

John Odo (D+) Odo came in for a couple minutes and racked up 3 quick fouls. He also missed the front end of a one and one. 1reb.

Shavon Coleman (B-) Coleman was matched up with much taller players on the perimeter and didn't really play much of a factor. He had 5pts, 4rebs, 1ast, and 1stl.

Shane Hammink (B-) Shane seemed to question himself on offense, except a very nice drive to the hoop where he made a layup and got fouled. 3pts, 2rebs, and 2asts.

Anthony Hickey (A) Hickey came in off the bench and really played well. He only hit 3 of 9 from three point range but made the offense go at PG. 16pts, 7asts, 3stls, and 2rebs.

Malik Morgan (C-) Malik struggled defensively with hte new handcheck rules. He had 4 fouls in limited minutes. However he did get 2asts, 1reb, 1stl, and 1pt.


LSU returns home to face another faced paced opponent Saturday night when the Tigers face the Northwestern St Demons. LSU beat the Demons 102 to 95 last season and look to get back to their winning ways at 7PM. While no official word has been given on Martin's return, Coach Jones said they will use "every precaution".


Popular Stories