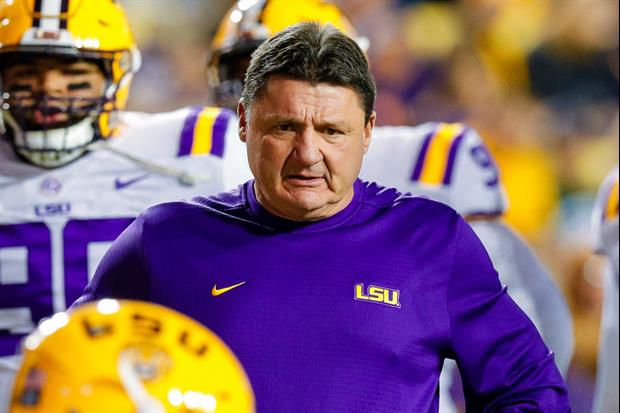 Stephen Lew-USA TODAY Sports
LSU head coach Ed Orgeron joined
104.5 ESPN's Off the Bench
Tuesday morning and spoke about the Texas A&M game and the controversial calls that were made by the officials, specifically the one-second that was put back on the clock that allowed the Aggies to tie up the game before overtime.
quote:




---

"I'm really proud of the way our team fought", Orgeron said. "Really proud of the resolve and character of our football team. That game was taken away from them. That second should never have been put on the clock... It was the wrong call, I'm sticking by that. It was a mistake."

"Our players gave everything they had. It was disgusting in the locker room, I was disgusted for them. Thirty-five years of coaching I have never used officiating as an excuse. There were some bad calls, and they missed some calls. Four times the game should have won for LSU. Those calls should have gone in our favor and they didn't. There is nothing I can do about. I feel bad about it, our guys fought, we should have won the game."

"On the other hand, we need to make the plays. First of all, we need to coach better. We could have put them in better positions and make better calls. And then we need to execute the calls. We have to look at ourselves, there were a lot of opportunities that we could have taken to win the football game."

"But I'm going to say something to you... when you win the game and it's taken away from you and our guys went out there and played those guys for seven overtimes... what a fantastic show of grit and character our football team had."

"We could have made the first down and the game was over. Twenty-nine seconds left, they have not timeouts left, we need to stop them. Obviously, we could have done some things better but that's hindsight. We gave it our best shot that we possibly could."

"I thought we had a great game plan on offense. We ran Joe Burrow, what true grit he had. I thought Steve Ensminger called one of his best games. The fumbled punt really hurt us. The missed field goal really hurt us. So we had some opportunities to win the football game but we didn't.

"But again, that one-second should have never been put back on the clock."

---
You can listen to the full interview
here.
Related:
Popular Stories