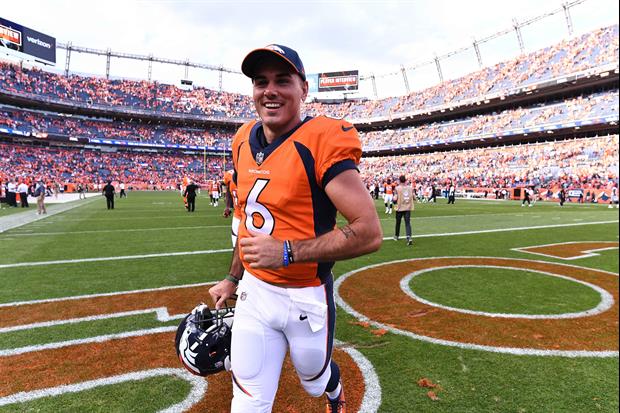 © Ron Chenoy-USA TODAY Sports
UPDATE:
ORIGINAL:
You've probably heard by now that former Ole Miss and now Denver Broncos back-up QB, Chad Kelly, was arrested early Tuesday morning and charged with first-degree criminal trespassing...
The details of what happened are very odd. Per Broncos beat writer Ryan Koenigsberg...
quote:




---

"Upon arrival Your Affiant contacted TORRES, MARCO (DOB 05-13-1983) and LOZANO, NANCY (DOB 04-29-1993). Nancy was holding their young child identified as (redacted). Your affiant learned that Nancy was seated on the couch just inside the front door while holding (redacted) when an unknown male entered the residence uninvited and sat down on the couch next to her mumbling incoherently.

"Nancy called for Marco who confronted the male in the living room and hit him with a stick in the upper back as he kicked the male out of the residence. The stick was later identified by Your Affiant as an aluminum vacuum tube with plastic ends, about two to three feet in length. Marco advised the doors to his residence were locked, although Your Affiant found no signs of forced entry. Marco showed Your Affiant security video of the front of his house which identifies the male as a white male wearing dark pants, a white long sleeve shirt with a brown vest and a red scarf around his neck. The males clothing appears disheveled and he has a tattoo on his chest.

"Englewood PD officers in the area located a male matching that description in front of the Gothic Theatre located at 3263 S Broadway in the City of Englewood, County or Arapahoe and State of Colorado. The male was detained without incident and verbally identified himself to officers as KELLY, CHAD (DOB 03-25-1994). Chad was also recognized by officers on scene as being Chad Kelly."

---
And here was John Elway's comments on the matter...
quote:




---

"We're obviously very, very disappointed in Chad and the situation that he's put himself into, so we're in the process of getting all the facts and talking to Chad and then we'll figure out exactly which direction we're going to go. But obviously disappointed in Chad. When the team has a get-together, which is always a good thing when they get together and the camaraderie that goes along with being a team. But when you have one person that kind of puts a dent in the whole process, it's very disappointing. We're going to look into this and look into it very seriously, because the charges are very, very serious and we understand that so we will look into this and then make decisions as we go."

---
(TheSpun)
Related:
Popular Stories