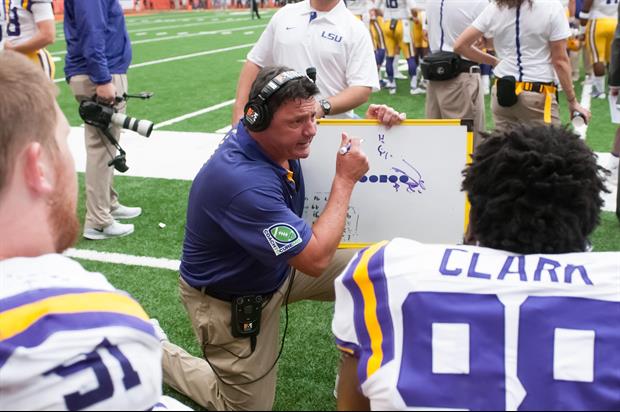 Mark Konezny-USA TODAY Sports
New interim head coach Ed Orgeron made it clear on Monday during his introductory press conference that change was coming to LSU.
quote:




---

"We needed a change. Some freshness. Some energy," Orgeron said. "We're going to change things. We're going to flip the script."

---
One of those changes is the way the team will conduct practices.
Orgeron said Monday that practices going forward would be shorter, suggesting that players will spend more time in the meeting rooms studying film than on the practice field.
Monday's walkthrough practice which is usually 90-120 minutes long only lasted 30 minutes. A move that many players will definitely enjoy, as some said they were starting to get worn out during the week.
Another change that Orgeron made was allowing the media into practice on Monday, something that has not happened in a long time during the regular season.
After practice wrapped up on Monday, a few LSU players took to Twitter and seemed excited with the new changes.
Instead of meeting with the media after practice on Wednesday's like Les Miles would do, Orgeron will be meeting with the media after practice on Thursday.
Change is coming. Get ready LSU fans.
Related:
Popular Stories