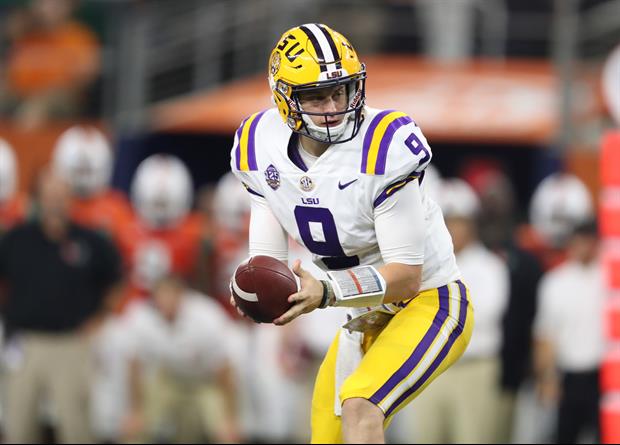 Matthew Emmons-USA TODAY Sports
LSU quarterback Joe Burrow chatted with ESPN's Kirk Herbstreit and Ian Fitzsimmons for the latest podcast episode of "Herbstreit & Fitzsimmons." Many things were discussed and you can listen to the
full segment here.
For those that can't listen, here's what was said...
How much fun are you having? You have served as a backup for a while, what's it feel like to play in these high profile games and taking names?
"It's been a great experience so far. Obviously being a backup for three years was tough because I'm such a competition. Now that I'm getting my shot, it's been really fun."
On LSU's offense so far…
"The first three weeks we have been figuring out who we are as an offense. I think the direction of where our offense is going is really suited for my skill set."
On executing at loud Jordan Hare Stadium last week…
"It's how I have always been, the stage has never been too big for me. The coaches came up with great game-plan and stuck to it the whole game. When it came down the stretch we made the plays that needed to be made."
On media doubting the Tigers early and praising them now…
"You just have to be level-headed: when it's going bad and when it's going good. You have to block out the noise. Everyone was saying how we were barely going to make a bowl game, now we have two top 10 wins and they're telling us how great we are. You have to stay even-keeled and focus on getting better every day and having great practices."
On how he sees the offense growing…
"What helps is the chemistry of us all playing together for three weeks and having two big wins. Chemistry comes with experience and experience breeds confidence. We have a lot of confidence in ourselves and I think the offense is going to take off in the next couple of weeks."
On growing up in a football family…
"I don't know what its like to not be around football. It's basically all we talk about as a family. I think being around it allowed me to understand the game better than other people."
On taking hits vs. sliding…
"I have really never thought about sliding but I was sore after the [Auburn] game. I'm going to try and take a couple of hits off myself. But my mindset is touchdown, first down, get down. If it's 3-on-1 I might get down, but if it's 1-on-1 I'm going to try to get as many yards as I can."
On Derrick Dillon's TD vs. Auburn…
"I have seen him run before but never that fast. As soon as he caught it he was gone, no one was catching him."
On keeping tabs on his former Ohio State teammates…
"I do keep track of them, I'm still in group chats with them. I haven't had a chance to watch their games yet but I definitely keep in touch with those guys."
On the hype that would come from a potential postseason matchup with Ohio State…
"It would definitely be hyped, and it would very weird but there is a long season to go before that happens."
Related:
Popular Stories