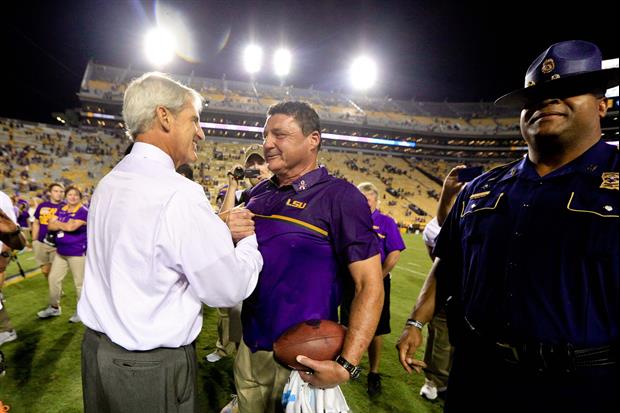 Derick E. Hingle-USA TODAY Sports
Former LSU athletic director Joe Alleva gave a very candid interview with
The Advocate
on Wednesday and said he never would have hired Jimbo Fisher when the Tigers were looking to replace Les Miles back in 2015-2016.
quote:




---

"I still have a lot of friends in the ACC," Alleva said. "I talked to them, and after that I didn't want any part of Jimbo. I would never have hired Jimbo. He was never on my radar. Now, fans and some people in the department wanted him, but I never wanted him.

"I could have made a change (at the end of the 2015 season). I recommended not to. Because I would have been forced to hire Jimbo. I would rather have had Les. But if I didn't hire him, the outcry would have been ridiculous. So we had that meeting during the (Texas A&M) game, and I made the recommendation to keep (Miles)."

---
During the
interview
, Alleva also said that dealing with Miles was very difficult...
quote:




---

"The sad thing is it should have been that way for a long time," Alleva said. "Think of the players Les Miles squandered and didn't utilize properly. Talking to Les was like talking to a wall. The key (in) getting to a championship level is utilizing talented players. It's that simple."

---
You can read the whole interview
here.
Related:
Popular Stories