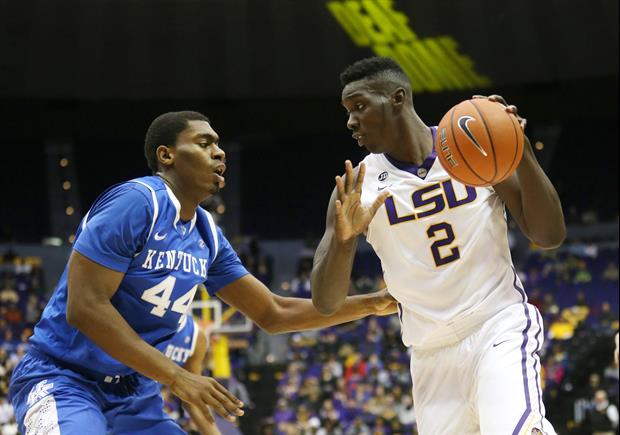 Crystal LoGiudice-USA TODAY Sports
When fans entered the PMAC on Tuesday night, they were asked not to use the ramps due to ice. When they turned on their TV's they were told not even to get on the roads due to ice, but when SEC and LSU officials decided it was game on, fans didn't listen. The estimated 3,500 students and few thousand others witnessed a game that may go down as the turnaround game of a program.

The subfreezing temperatures outside didn't stop LSU from coming out hot. Led by Johnny O'Bryant, LSU ran out to a 22-6 lead forcing turnovers and hitting shots. It was beautiful. It was physical. LSU endured an almost patented 5 minute struggle, but still went into halftime leading 42-36. While the lead had been cut, everyone still felt in control. The Tigers had played 20 successful minutes against Kentucky and the Legend of the Icedome began its birth.

The second half started similar to the first half with LSU extending the lead to 15, capturing the momentum. LSU went from a zone defense to a full court press that forced some turnovers from the Wildcats who ended the game with 13. It was a surprising move for Coach Jones to play almost the entire game in a 2-3 zone, but with Kentucky's season long success inside it seemed to be the ticket to victory.

Johnny O'Bryant scored a season high 29 points, grabbed 9 boards, blocked 2 shots and had a steal. Anthony Hickey played probably his best game of the season scoring 11 points and have a 6:0 ast:to ratio. Throw in 3 steals, 2 rebounds, and some spectacular decision making and you have a career type game. Coleman had 14 points, 9 rebounds, 5 assists, 2 steals and a block. Mickey had 14 points, 6 rebounds, and 5 blocks... If you don't get it yet, everyone had a great game.

Interesting Stats

#1 and #2 SEC block leaders went at it. Mickey ended the game with 5 blocks while Willie Cauley-Stein had 0.

LSU blocked 20.9% (11 of 53) of Kentucky two point attempts. Kentucky averages getting blocked only 7.3% of the time.

LSU's AST:TO ratio was 15:11 while Kentucky's was 8:13

LSU had 11 steals in the game. Kentucky had 6.

Anthony Hickey has made his last 8 free throws moving his season average from 50.0% to 64.3%

LSU assisted on 46.9% of their makes while Kentucky only assisted on 25% of their makes.

Johnny O'Bryant leads the SEC in points on post-ups averaging 7.2 points per game. He led the SEC last year at 4.8 points per game in post-up.

Kentucky made 9 of 20 three point shots, including 4 in the last 70 seconds.

LSU once again allowed an unexpected player to get a career high. This time it was 7' Dakari Johnson who scored 15. Previous high was 10.

LSU held UK to a 35.7% Offensive Rebound %. They average a NCAA leading 43.5% OR%

LSU should be favored in 5 of their next 6 games and could bust onto the scene as a possible NCAA tournament team in that time.
Popular Stories