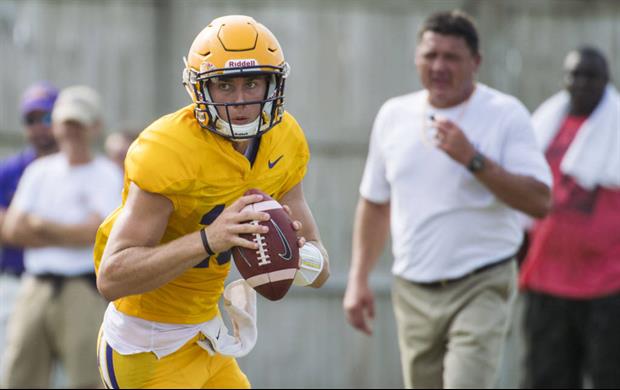 Chris Parent (@chrisparent)/LSU Athletics
New LSU offensive coordinator Steve Ensminger was on the ESPN 104.5's program "Hangin' with Hester" Thursday and said that sophomore quarterback Myles Brennan will get the first snap when Spring Practice starts up in just a few weeks.
Ensminger added that quarterback Lowell Narcisse and Justin McMillan will also get reps with LSU's first team. Per
The Advocate:
quote:




---

"I've kind of told him, Myles right now, 'hey, we're all in here starters' and that's the way it's gonna go. Yes, Myles will take the first snap of spring practice and all that. But as we get into teams and as we get into scrimmages and everything else. I've gotta allow these other kids, Lowell [Narcisse] and Justin [McMillan] to get with the first group and run the reps and everything else. And it's my job to do a good job of playing to their strengths …

"Hopefully as we put this together when [any of the QBs are] in the ballgame I'm not asking those quarterbacks to do what another quarterback can do, and I can play to his strengths."

---
Brennan, a pro-style passer from Long Beach, MS appeared in six games last season, completing 14-of-24 of his passes for 182 yards, one touchdown, and two interceptions.
Related:
Popular Stories