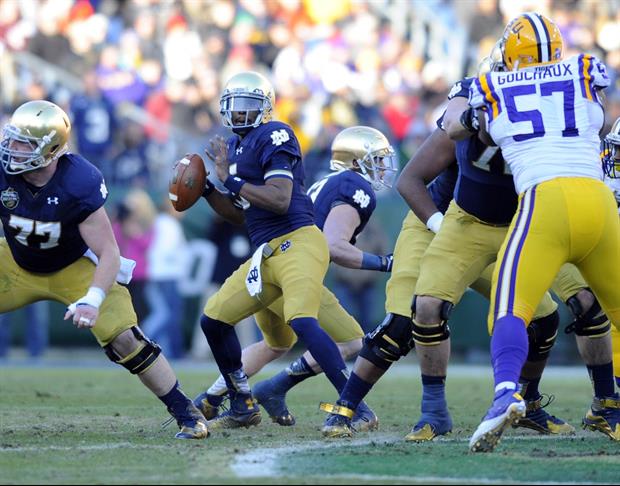 Christopher Hanewinckel-USA TODAY Sports
Update:
Shortly after multiple reports came out that Notre Dame's Everett Golson was interested in transferring to LSU, the Irish quarterback tweeted out this:
Original:
Notre Dame quarterback Everett Golson has reached out to LSU about transferring for his final year of eligibility, according to a
Nola.com
source.
quote:




---

Notre Dame quarterback Everett Golson, who played against LSU less than a week ago, is interested in becoming a Tiger. The senior, who is scheduled to graduate in May, has reached out to LSU about transferring there for his final season of NCAA eligibility.

Golson, who helped the Irish to a 31-28 victory against LSU in the Music City Bowl, could join the Tigers with immediate eligibility for the 2015 season. The SEC lifted its ban on allowing graduate transfer students last May.

---
After leading the Irish to the 2012 BCS Championship game, Golston sat out the 2013 season but returned in 2014 to pass for 3,445 yards and 29 touchdowns with 14 interceptions.
For LSU to considering the transfer, the school would need to receive a waiver from the SEC since Golson was declared academically ineligible and missed the entire 2013 season.
During the Music City Bowl against LSU, Golson split snaps with teammate Malik Zaire and completed six of 11 passes for 90 yards.
Related:
Popular Stories