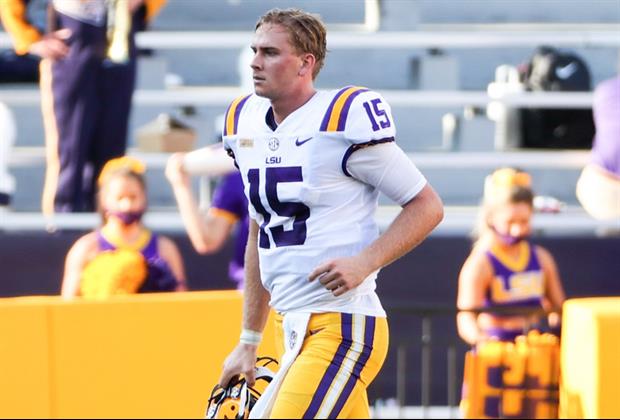 Derick E. Hingle-USA TODAY Sports
Owen Brennan, the father of LSU quarterback Myles Brennan, was on
WWL radio
this week and talked about his son's arm injury that required surgery on Tuesday.
Owen Brennan talked at length about how the injury happened, the surgery process, his recovery timeline, and his son's plans to stay at LSU to compete in the future.
On the injury:
quote:




---

"The entire team had the week off before they report to fall camp and as a lot of people know, Myles is a huge fisherman and he was going fishing one last time before camp," Owen Brennan explained.

"He was loading up to go out and had all the gear in his hand and literally, his flip-flops caught a loose board on the dock, he tripped and he wasn't able to catch himself with his hands full. He fell on his left arm and broke his humerus bone."

"To show you how tough he was, he thought it was a bruise and still went fishing and fought through it," Owen said. "The next morning he woke up with realized it was a little more than a bruise. He gave us a call and drove himself from Baton Rouge from Grand Isle and ended up having a compound fracture of the humerus bone."

"[The arm break] was right smack in the middle. If you saw the x-rays, it would have turned your stomach. And as a Dad, it turns your stomach to think that he went to sleep thinking he could go fishing the next day."

"The doctors at LSU did an incredible job. They set it, he has a metal plate holding the bone together with some screws in there. The scar tissue is going to heal over it. It's actually going to be stronger and more healthy and better than it was before if you can imagine that."

---
On the recovery timeline:
quote:




---

"Thank goodness that it's his left arm," Owen said. "They are actually going to get him into physical therapy on Friday. They are going to start moving the left arm and getting him into some exercises. They are going to have him throwing the football in two weeks."

"Initially they said three months (before he would be able to take a hit). When they finished the surgery, and knowing his healing process, they would not be surprised if he would be ready to go before that."

---
When asked if there was a chance Myles would transfer?
quote:




---

"None whatsoever," Owen said. "Matter of fact, the first thing he said to coach Orgeron was 'How much eligibility do I have?' I don't even think we went to the hospital yet and he had this conversation."

"He is an LSU Tiger through and through. He's not going anywhere. He was getting ready to compete for this job on Friday. He wants to finish his career at LSU as the starting quarterback. Whatever avenue that is, whatever path that takes. That's his goal."

"Myles is an LSU Tiger. He's going to be there. He's already been a part of one National Championship and he's hungry. He knows what that tastes like and he wants another one. Whatever that takes, whatever his role is... he's going to be there for this team, for this university for the state of Louisiana to win the next national championship."

---
Related:
Popular Stories