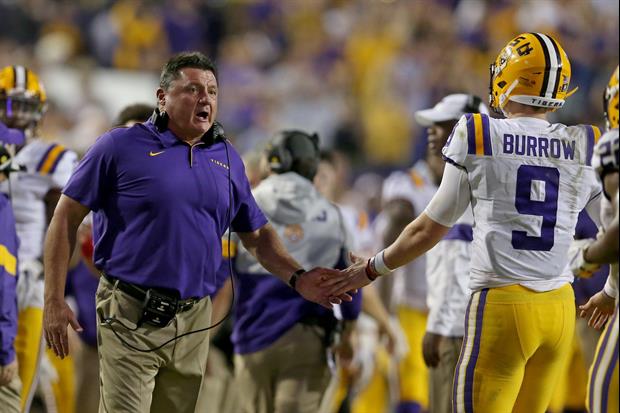 Chuck Cook-USA TODAY Sports
During Friday's SEC Championship Coaches Press Conference, LSU's Ed Orgeron told a great story about how focused quarterback Joe Burrow is for Saturday's game vs. Georgia.
According to Orgeron, Burrow's parents have been trying to call him but can't get through to him because his phone is broken. When they told him they wanted to get him a new one Joe told them he doesn't need it...
"I don't need a phone," Burrow told his parents. "I got a game to play this week."
quote:




---

Q. This game has long been a showcase for the conference of Heisman contenders. How have you been helping Joe work through any of the individual pressure he might be feeling given all the buzz around him?

ED ORGERON: Joe and I are very close. I don't have to say much to Joe. I want to give you an example. Derek Ponamsky, who does a tremendous job for us, told me last night that Joe's mama and daddy were calling him, and he wouldn't answer the phone. I wanted to know what's going on. Well, Joe's phone broke, and the mom and dad said, we're going to get you one. He said I don't need a phone. I got a game to play this week. So that goes to show you the focus and the leadership of that young man and what he's done.

---
In a day in age where everyone is glued to their cellphone and would go crazy without it, it's refreshing to hear a story like this.
Go get 'em, Joe!
Related:
Popular Stories