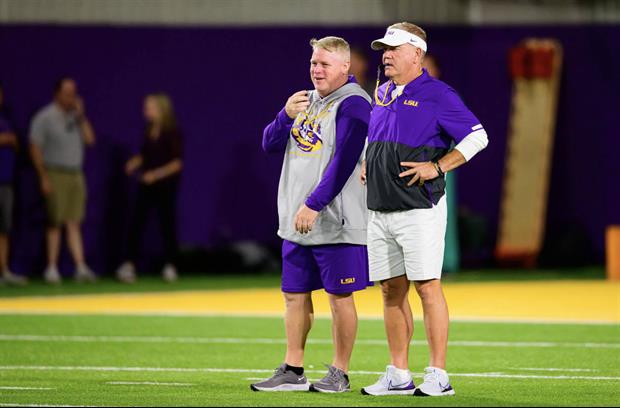 Chris Parent - LSU Sports Photography
During his press conference on Monday, LSU head coach Brian Kelly was asked about the daily recruiting battles with Alabama and what the Tigers can do to "flip the balance of power in this rivalry?"

Q. Now that you are facing Alabama day-to-day on recruiting battles and that kind of thing, what are sort of the priorities in terms of positions and maybe geographical areas for you in this program as y'all try to flip the balance of power in this rivalry?

BRIAN KELLY: Wow, there's a lot there (laughing). I don't know where to start.

Look, I think it starts with pulling your base. I think our base extends all the way up to the border north of Baton Rouge.

So I think there's been a heightened focus that making sure in the state of Louisiana we're not myopic in the sense that we're just in one geographical area. It's got to really focus on the entire state.

I think it starts there. I think identification of 25s and 26s and making sure that we know all the players in this state and have done a really good job of identifying everybody in the state of Louisiana. So, look, this adage of locking down the borders is like being a lockdown corner. You know, there are no lockdown corners, okay?

There are good corners, and there are corners that are elite. We can be elite in the state of Louisiana, and that's what we need to do. I think you start there.

And then, look, I mean, it's about filling the needs that we have currently in our program. We're not there yet. Unfortunately, we're probably going to have to dip back into the transfer portal a little bit.

We have some really good young players, and we're not going to forsake them. That's where we want to build this program. This program will be built on freshmen, but there are a couple of positions that still have holes in them that need to be supplanted with some transfers.

We're much better than we were last year. We'll get better this year, and then hopefully in another year this is just about player development and bringing in freshmen. That's stage two in terms of getting to where we need to be to hopefully get to that final narrative of upstaging Alabama. But we're certainly not there yet.
Related:
Popular Stories