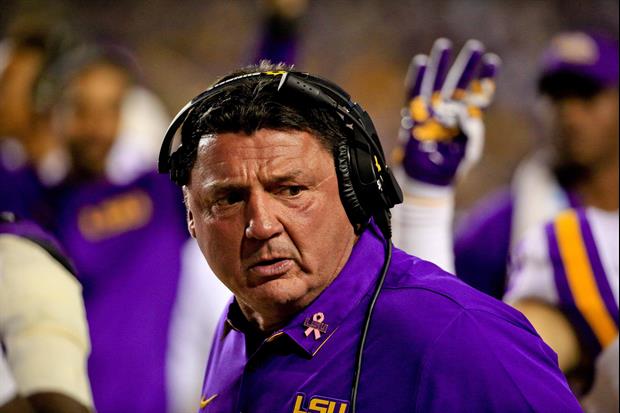 Derick E. Hingle-USA TODAY Sports
Former LSU defensive lineman and current ESPN Football Analyst Booger McFarland appeared on ESPN's College Football Live Thursday and said that Ed Orgeron will not land the head coach job in Baton Rouge at the end of the season.
Here is what he had to say, per
247Sports.com:
quote:




---

"He can win out and he can beat Alabama convincingly ... I think the powers that be in Baton Rouge - Joe Alleva, F. King Alexander and the Board - I think they're looking for something they've never had," McFarland said. "That's a head coach with an offensive background, a head coach that can bring a young quarterback in here and get some excitement. ... I don't know of anything, in my opinion, that he can do to keep this job."

Fellow analysts David Pollack and Joey Galloway said winning out - which would include victories over Alabama, Florida, Ole Miss, Arkansas and Texas A&M - would, and should, be enough for Orgeron to be the Tigers' permanent coach.

"I would love for Coach O to be the coach, he's my type of guy - he's a defensive line coach," McFarland said. "I would love for him to get that job - I'm just giving you the climate of what's down there and what the people want. They want a guy that can be a quarterback whisperer."

---
What do you think Ed Orgeron needs to do to land the job full-time at the end of the season?
Related:
Popular Stories