biglego
LSU Fan
Ask your mom where I been
Member since Nov 2007
63379 posts

re: Ford F-150 Turbo V-6
Posted by biglego
on 1/13/21 at 11:25 pm to Nannyslayer
quote:




---

I was just worried a V-6 would seem under powered (prob just in my mind)

---
Ecoboost has more power than any V8 out there except maybe the GM 6.2. The longevity is the only concern although I think they're fine now.
djs017
Louisiana Tech Fan
Member since Oct 2014
205 posts

re: Ford F-150 Turbo V-6
Posted by djs017
on 1/13/21 at 11:56 pm to Nannyslayer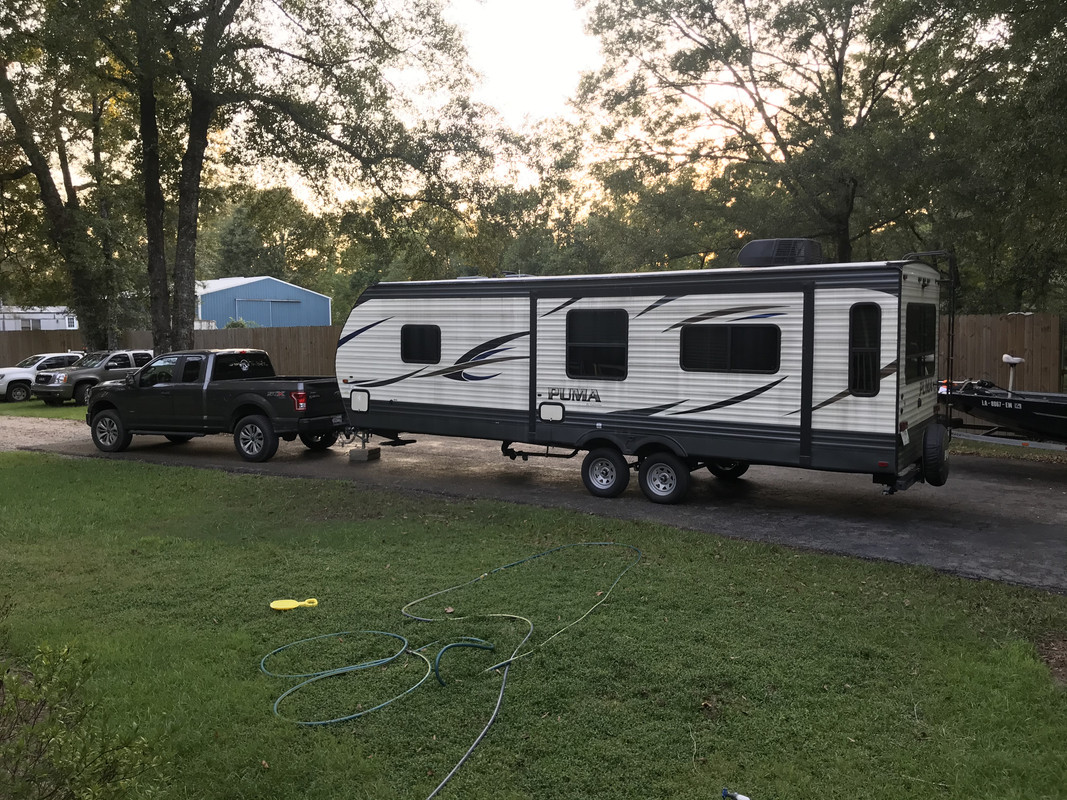 I'm sure I'll catch hell for posting this, but I pull a 27' camper with a super slide and my F-150 has the little 2.7L V6 ecoboost. I had to make a few upgrades to handle it comfortably, and I wouldn't recommend it to anyone who isn't experienced with towing, but it doesn't lack power. I've never owned the 3.5 but I can't imagine you would be disappointed with a V6 eco boost in a full size truck. I only have 78k miles so I can't speak to longevity, but it has been a solid truck for my needs (just don't pay attention to fuel mileage while towing haha).
This post was edited on 1/13 at 11:57 pm
ForLSU56
LSU Fan
Rapides Parish
Member since Feb 2015
2222 posts

tadman
Miami (OH) Fan
NOLA
Member since Jun 2020
216 posts

re: Ford F-150 Turbo V-6
Posted by tadman
on 1/14/21 at 8:40 am to Nannyslayer
I rent cars almost every week for work.

When it comes to chosing an ecoboost versus v8 F150, I'd seriously consider the ecoboost. It drives nicer than the V8, less weight up front.

Either way I'm getting a hemi ram 1500 first.
MudCatMatt
LSU Fan
Louisiana
Member since Dec 2018
129 posts

re: Ford F-150 Turbo V-6
Posted by MudCatMatt
on 1/14/21 at 10:16 am to Nannyslayer
I traded in my 2013 F-150 with the V6 Ecoboost for a 2019 F-150 with the new 10 speed V6 Ecoboost. I've never had an issue and get great gas millage. Highly recommend!
SlopDonkey
LSU Fan
Member since Jul 2020
13 posts

Online

re: Ford F-150 Turbo V-6
Posted by SlopDonkey
on 1/14/21 at 7:36 pm to Nannyslayer
I have a 2018 F150 Platinum Eco with 54k miles. I've had to change the rear brakes, sunroof, timing chain solenoid, and the differential pinion (bearings twice). Good thing all warranty work.
benwillis57
LSU Fan
Baton Rouge
Member since May 2018
7 posts

re: Ford F-150 Turbo V-6
Posted by benwillis57
on 1/14/21 at 8:44 pm to Nannyslayer
Yeah definitely in your mind. The 3.5 outperforms the v8 in every category.
Back to top
Follow TigerDroppings for LSU Football News