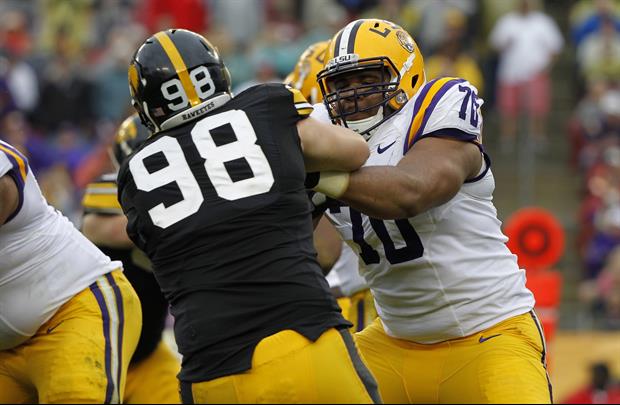 Update:
La'el Collins will return to LSU for his Senior season
.
After learning that running back Jeremy Hill and right guard Trai Turner are declaring for the NFL draft on Monday, LSU fans might he hearing some good news about offensive tackle La'el Collins.
The Advocate
is reporting that Collins plans to return to LSU for his senior year per conversations with wide receiver Odell Beckham Jr.
quote:




---

Receivers Odell Beckham Jr. and Jarvis Landry will forgo their senior years and enter the NFL draft, Beckaham confirmed Monday, and the receiver said left tackle La'el Collins plans to return to LSU.

Collins was the lone holdout among LSU's underclassmen making decisions – to go pro early or return to LSU. Underclassmen have until Wednesday to declare.

Beckham and Landry were expected to make the early leap to the pros. Collins had been "wrestling" with his decision, a source said last week. Beckham said he recently spoke to Collins. Collins made the decision because he envisions that he'll be a first-round draft pick next year.

---
Collins is projected to be selected in the second to third round in this year's NFL draft. Underclassmen have until January 15th to declare for the draft.
Complete Story
Related:
Popular Stories