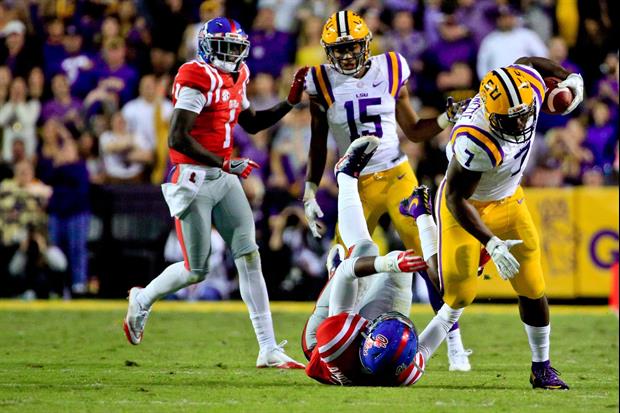 Derick E. Hingle-USA TODAY Sports
NFL.com
analyst Lance Zierlein recently published a mini draft profile for LSU's running Leonard Fournette.
Zierlein says that some of Fournette's strengths included his size, powerful running style, and his breakaway speed.
Few weaknesses were listed but Zierlein says Fournette could improve as a receiver and pass protector. He also said that some scouts could be concerned that Fournette's punishing running style opens him up to unnecessary hits that could take a toll on his body.
As for a comparison for Fournette, Zierlein chose NFL legend Bo Jackson:
quote:




---

Here's where I'm supposed to compare Fournette to Adrian Peterson. After all, Peterson has become an NFL legend and one of the dominant runners of our time by combining his power, sheer will and breakaway speed. To be sure, Fournette possesses Peterson's power, will and speed, but he's even bigger than "All Day" and lacks Peterson's lateral footwork and suddenness.

The list of running backs with Fournette's size, power and speed is a relatively short one, but there's one player who stands out as a very reasonable comparison -- Bo Jackson. Jackson came into the league at a chiseled 6-1 and 230 pounds, which is about the same size as Fournette. Jackson (college) and Fournette (high school) were both track and field stars. Fournette showed off his power this weekend, adding to his legend, while "Tecmo Bo" is a video-game reference that is an homage to the seemingly impossible task of tackling Jackson. Both Jackson and Fournette are a little stiffer in the hips with their running styles, but it doesn't, and didn't (in Jackson's case), seem to have any impact on their production.

---
Related:
Popular Stories