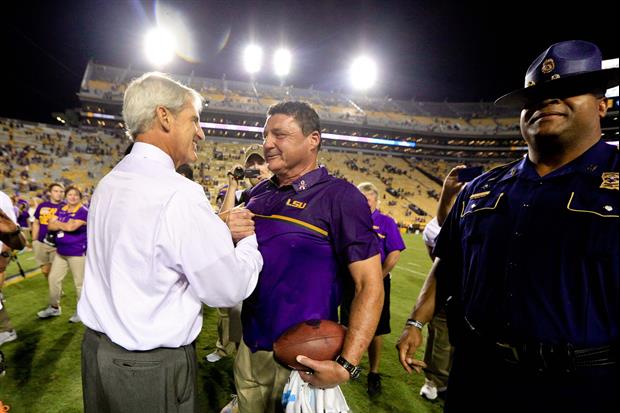 Derick E. Hingle-USA TODAY Sports
LSU athletic director Joe Alleva joined the "Culotta & The Fan" 104.5 ESPN Baton Rouge radio on Friday and talked about the cancellation between LSU and Florida.
Alleva made it loud and clear that LSU made every attempt to play this game.
quote:




---

"Like I said yesterday. LSU made very effort to play the game, Alleva said. "We offered for them to come here and offered for us to go there."

"I offered to have our men get up very early Sunday morning, fly to Florida, play the game and fly home."

"We at LSU tried everything we could to get the game in. We would have done anything to get the game in. Anything. We would have done anything to play the game."

"We were willing to play anywhere that we needed to play."

---
When asked about a report by ESPN's Bret McMurphy that LSU turned down an offer to play Florida on November 19th, Alleva said that his report "is flat out a lie."
quote:




---

"That's a flat out lie. No one has contacted me," Alleva said. "And that's a perfect example of terrible journalism."

"He just tweets out that garbage. That's an absolute lie."

---
Alleva also said that he will talk to the league office about the SEC tiebreaker which is based on winning percentage.
quote:




---

"I think it has to be a topic of discussion as we go through the rest of the season, no doubt. That winning percentage is something that needs to be discussed."

---
Alleva was asked if he ultimately thinks the game will be made up this season.
quote:




---

"I think it's going to be very difficult. That's all I'm going to say about it right now.'

The scenarios that I see down the road would require some serious changing in schedules."

---
To make this game up, LSU and Florida would need to cancel future home games set for Nov. 19 against South Alabama and Presbyterian. Will it happen? We will have to wait and see.
Related:
Popular Stories