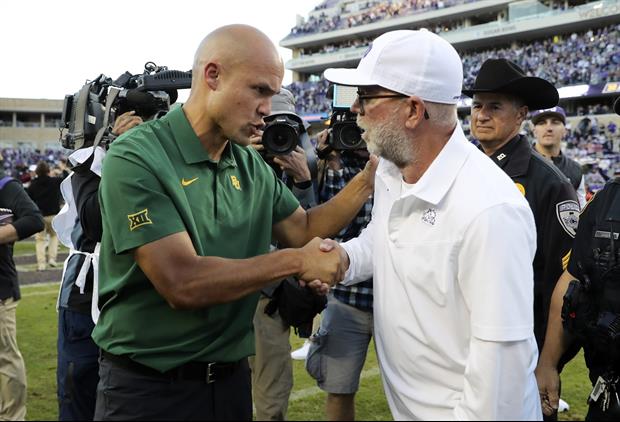 Kevin Jairaj-USA TODAY Sports
College Football analyst David Pollack was on the latest episode of "The ESPN College Football Podcast" with Rece Davis and talked about LSU's search for Ed Orgeron replacement.
Davis said that Scott Woodward should be looking at Alabama offensive coordinator Bill O'Brien and Pollack said he would "hire Dave Aranda."
Davis also agreed that Aranda would be a good choice. Per
The Daily Advertiser:
quote:




---

"I would hire Dave Aranda because — listen, Ed O's antics and what he is and who he is — I like the exact opposite," Pollack said. "I would love to have a cerebral, level-headed guy. I think, again when I'm hiring a coach, I'm taking one side of the ball and it better be elite. I think he's an elite mind when it comes to defense. It's not just at LSU. It's not just at Baylor. It's back at Wisconsin. Like this dude is really, really good."

Aranda was the Wisconsin defensive coordinator from 2013-15. He was then LSU defensive coordinator from 2016-19 before becoming the Baylor head coach in 2020.

"I know my LSU defense is going to be top-notch like it was when he was there," Pollack said. "It's going to be great. I think I'll be structured, I'll be disciplined, I just like the aura of Dave Aranda. I think he'll be a really good fit for LSU. I think he would bring some stability. Listen, LSU is going to recruit itself. It's a big fish in a small pond. People want to go to Louisiana. It's got the pedigree. It's got the winning. There's a lot of it that's already good. I think my first choice would be, I would go Dave Aranda."

---
What do you think about Aranda possibly coming back to Baton Rouge?
Check out the
Coaching Changes Board
for the latest news on LSU's search for a new head coach.
Related:
Popular Stories