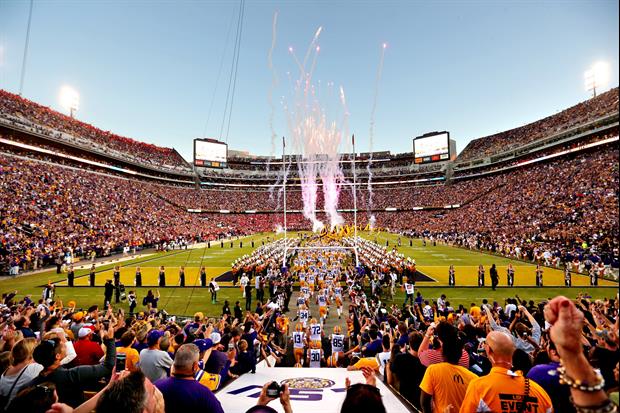 Crystal LoGiudice-USA TODAY Sports
LSU Vice Chancellor and Athletic Director Joe Alleva posted the following letter on the
LSUSports.net
athletic website to fans for Saturday's upcoming SEC matchup against Auburn at 2:30pm CT.
Here are his bullet-points for the game:
quote:




---

-Remember, kickoff is at 2:30 p.m., so please arrive on campus as early as possible, and carpool if you can. We expect all campus parking to be full before noon on Saturday, so please make sure to allot plenty of time to drive to campus and locate a parking spot. | Parking Details

-In addition, fans with prepaid parking permits are strongly encouraged to arrive early to avoid the traffic surge as kickoff time approaches.

-Please drive safely and pay special attention to directions from law enforcement officials. You will be able to find parking and traffic updates on our social media platforms - @LSUsports on Twitter and at Facebook.com/LSUTigers.

-The high temperature on Saturday is forecast to be 90 degrees, so please keep yourself hydrated before and during the game. Bottled water will be on sale inside Tiger Stadium at a discounted price.

-Please be aware that due to limited storage space, concessions stands may temporarily exhaust their bottled water supply. Should you come to a stand that happens to be in the process of re-stocking its supply, please look for another stand in your area to purchase water.

-Our sincere goal is to insure a safe and healthy environment for everyone. Of course, medical personnel will be on call throughout the stadium should anyone be overcome by the heat. | Fan Services

-A quick reminder that playing a day game at home in September is not something we choose to do; unfortunately, we are bound by the Southeastern Conference to move at least one game a year to the 2:30 p.m. time slot, if requested by CBS. As you know, all seven of our home games last season were played at night, and we expect that day games in Death Valley will continue to occur on an infrequent basis.

---
Read more on
LSUSports.net.
Related:
Popular Stories