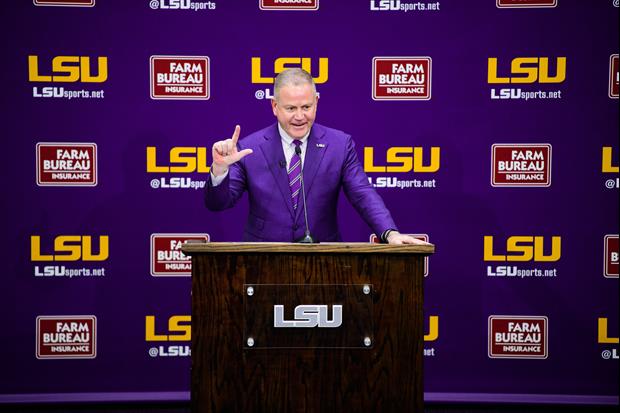 Gus Stark / LSU Athletics
LSU signed 13 high school recruits during the early signing period in December and added 12 more players from the transfer portal, bringing the 2022 class up to 25 signees.
The maximum number of players LSU can sign this recruiting cycle is 32 which means the Tigers have seven remaining spots to fill.
Here is a list of several uncommitted LSU targets and their announcement times for Wednesday. All times listed are CST.
Jaelyn Davis-Robinson
(3-star CB from Waxahachie, TX):
Signed with LSU.
TreVonte' Citizen
(4-star RB from Lake Charles, LA):
Signed with Miami.
Danny Lewis
(3-star TE from New Iberia, LA):
Signed with Alabama.
Caleb Douglas
(3-star WR from Missouri City, TX):
Signed with Florida.
Harold Perkins
(5-star LB from Cypress, TX):
Signed with LSU.
Jacoby Mathews
(4-star S from Ponchatoula, LA):
Signed with Texas A&M.
The tracker below will be updated as players sign their Letters of Intent on National Signing Day on Wednesday.
You can also visit our
Recruiting Forum
or follow us on Twitter at
@TigerDroppings
to stay updated on the latest recruiting news.
Signed with LSU (15)
PLAYER

POS

FROM

HT

WT

RATING

DATE

Walker Howard
QB

QB

6-1 / 183

Lafayette, LA

Lafayette, LA
St. Thomas More
6-1
183
12/15/21
Will Campbell
OT

OT

6-6 / 286

Monroe, LA

Monroe, LA
Neville
6-6
286
12/15/21
Harold Perkins
LB

LB

6-3 / 210

Cypress, TX

Cypress, TX
Cy Park
6-3
210
2/2/22
Emery Jones
OG

OG

6-4 / 330

Baton Rouge, LA

Baton Rouge, LA
Catholic
6-4
330
12/15/21
Laterrance Welch
CB

CB

6-1 / 178

Lafayette, LA

Lafayette, LA
Acadiana
6-1
178
12/15/21
Tygee Hill
DT

DT

6-3 / 283

New Orleans, LA

New Orleans, LA
Edna Karr
6-3
283
12/15/21
DeMario Tolan
LB

LB

6-1 / 211

Orlando, FL

Orlando, FL
Dr. Phillips
6-1
211
12/15/21
Quency Wiggins
DE

DE

6-6 / 265

Baton Rouge, LA

Baton Rouge, LA
Madison Prep Academy
6-6
265
12/15/21
Bo Bordelon
OT

OT

6-5 / 269

New Orleans, LA

New Orleans, LA
Newman
6-5
269
12/15/21
Fitzgerald West Jr.
C

C

6-2 / 314

Lafayette, LA

Lafayette, LA
Lafayette Christian Academy
6-2
314
12/15/21
Nathan Dibert
K

K

5-11 / 195

Hartland, MI

Hartland, MI
Hartland
5-11
195
12/15/21
Mason Taylor
TE

TE

6-5 / 225

Fort Lauderdale, FL

Fort Lauderdale, FL
St. Thomas Aquinas
6-5
225
12/15/21
Jordan Allen
S

S

5-10 / 184

Lafayette, LA

Lafayette, LA
Lafayette Christian Academy
5-10
184
12/15/21
Landon Ibieta
WR

WR

5-11 / 175

Mandeville, LA

Mandeville, LA
Mandeville
5-11
175
12/15/21
Jaelyn Davis-Robinson
CB

CB

6-1 / 180

Waxahachie, TX

Waxahachie, TX
Waxahachie
6-1
180
2/2/22
Others to Watch - Signed Elsewhere (27)
PLAYER

POS

FROM

HT

WT

RATING

SCHOOL

Julian Armella
OT

OT

6-6 / 295

Fort Lauderdale, FL

Fort Lauderdale, FL
St. Thomas Aquinas
6-6
295

Florida State

Florida State
Kelvin Banks
OT

OT

6-5 / 300

Humble, TX

Humble, TX
Summer Creek
6-5
300

Texas

Texas
Kam Dewberry
OT

OT

6-4 / 320

Humble, TX

Humble, TX
Atascocita
6-4
320

Texas A&M

Texas A&M
Denver Harris
CB

CB

6-1 / 185

Houston, TX

Houston, TX
North Shore
6-1
185

Texas A&M

Texas A&M
Jacoby Mathews
S

S

6-2 / 210

Ponchatoula, LA

Ponchatoula, LA
Ponchatoula
6-2
210

Texas A&M

Texas A&M
Walter Nolen
DT

DT

6-4 / 300

Cordova, TN

Cordova, TN
St. Benedict
6-4
300

Texas A&M

Texas A&M
Shemar Stewart
DE

DE

6-5 / 245

Opa Locka, FL

Opa Locka, FL
Monsignor Pace
6-5
245

Texas A&M

Texas A&M
Aaron Anderson
WR

WR

5-10 / 180

New Orleans, LA

New Orleans, LA
Edna Karr
5-10
180

Alabama

Alabama
Kendrick Law
ATH

ATH

6-0 / 190

Shreveport, LA

Shreveport, LA
Captain Shreve
6-0
190

Alabama

Alabama
Earl Little Jr.
CB

CB

6-0 / 175

Fort Lauderdale, FL

Fort Lauderdale, FL
American Heritage
6-0
175

Alabama

Alabama
Shazz Preston
WR

WR

6-0 / 190

St. James, LA

St. James, LA
St. James
6-0
190

Alabama

Alabama
Austin Ausberry
CB

CB

6-1 / 200

Baton Rouge, LA

Baton Rouge, LA
University Lab
6-1
200

Auburn

Auburn
JaDarian Rhym
CB

CB

6-2 / 170

Valdosta, GA

Valdosta, GA
Valdosta
6-2
170

Auburn

Auburn
Lucas Taylor
OG

OG

6-4 / 315

Mobile, AL

Mobile, AL
St. Paul's Episcopal
6-4
315

Mississippi St.

Mississippi St.
Trevor Etienne
RB

RB

5-10 / 205

Jennings, LA

Jennings, LA
Jennings
5-10
205

Florida

Florida
Azareyeh Thomas
S

S

6-2 / 175

Niceville, FL

Niceville, FL
Niceville
6-2
175

Florida State

Florida State
TreVonte' Citizen
RB

RB

6-0 / 218

Lake Charles, LA

Lake Charles, LA
Lake Charles College Prep
6-0
218

Miami (FL)

Miami (FL)
Khamauri Rogers
CB

CB

6-0 / 160

Lexington, MS

Lexington, MS
Holmes County
6-0
160

Miami (FL)

Miami (FL)
Marcus Scott
CB

CB

6-2 / 170

The Woodlands, TX

The Woodlands, TX
College Park
6-2
170

Missouri

Missouri
DJ Wesolak
WDE

WDE

6-5 / 230

Boonville, MO

Boonville, MO
Boonville
6-5
230

Missouri

Missouri
Bryan Allen Jr.
S

S

6-1 / 185

Aledo, TX

Aledo, TX
Aledo
6-1
185

Texas

Texas
Bryce Anderson
S

S

5-11 / 180

Beaumont, TX

Beaumont, TX
West Brook
5-11
180

Texas A&M

Texas A&M
Jake Johnson
TE

TE

6-5 / 220

Watkinsville, GA

Watkinsville, GA
Oconee County
6-5
220

Texas A&M

Texas A&M
Le'Veon Moss
RB

RB

6-0 / 190

Baton Rouge, LA

Baton Rouge, LA
Istrouma
6-0
190

Texas A&M

Texas A&M
Danny Lewis
TE

TE

6-4 / 235

New Iberia, LA

New Iberia, LA
Westgate
6-4
235

Alabama

Alabama
Caleb Douglas
WR

WR

6-3 / 185

Missouri City, TX

Missouri City, TX
Hightower
6-3
185

Florida

Florida
Decoldest Crawford
WR

WR

6-1 / 160

Shreveport, LA

Shreveport, LA
Green Oaks
6-1
160

Nebraska

Nebraska
Popular Stories