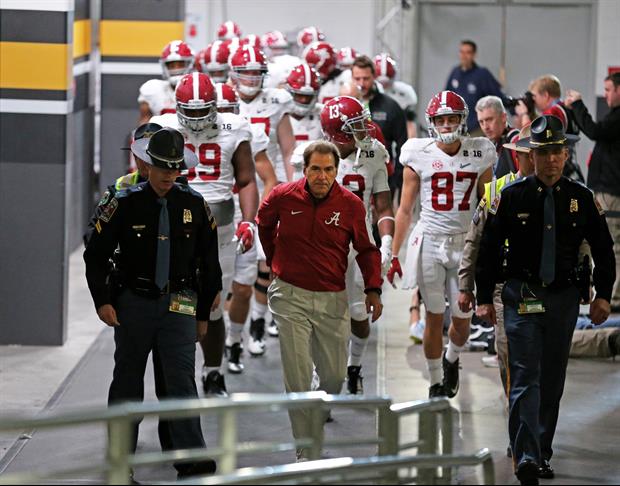 Mark J. Rebilas-USA TODAY Sports
Earlier on Wednesday afternoon, SEC Network's Paul Finebaum conveyed on live television and again later on his radio show that Alabama head coach Nick Saban thinks his players Cam Robinson and Hootie Jones were arrested by
officers who were "disgruntled LSU fans."
quote:




---

"He indicated that the police were LSU fans, yeah," Finebaum said. "I think that's accurate." (The Advocate)

---
quote:




---

Within earshot of media, Saban launched into a four-letter tirade directed at Finebaum. In it, he used his fingers to note the small amount of marijuana found in the car and insinuated the arresting officers were disgruntled LSU fans. (AL.com)

---
Glenn Guilbeau with
The Advertiser
was able to contact Monroe Police public information officer Chris Bates who "laughed at the idea" that the players were arrested because of what college they played for.
quote:




---

Monroe Police public information officer Chris Bates laughed at the idea that the officers had football on their mind during the arrests of Robinson and Jones.

"I can tell you for a fact that the first officer on the scene is not an LSU fan," Bates said Wednesday afternoon. "He hates LSU. He doesn't like the color yellow or purple and gold. In fact, he's a Florida fan. If you mention LSU around him, he throws up in his mouth. Most of our officers are LSU fans, but we have some who are Arkansas fans and Georgia fans and Alabama fans. And I'll tell you this, the first officer did not even know those guys were players."

---
Related:
Popular Stories