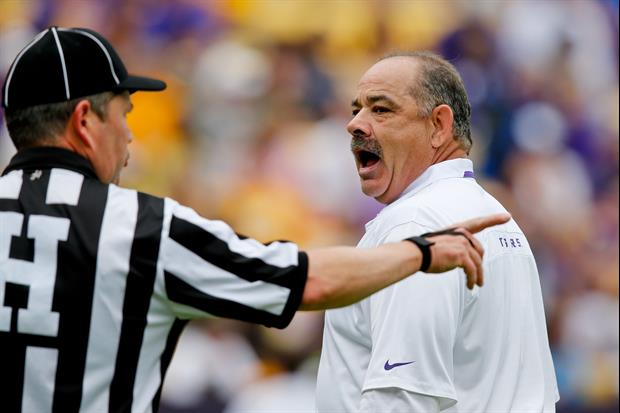 Derick E. Hingle-USA TODAY Sports
Update:
Ross Dellenger with
The Advocate
is now reporting that LSU has followed John Chavis' suit by countering with its own.
quote:




---

LSU and Texas A&M defensive coordinator John Chavis filed lawsuits against one another on Friday as the two sides continue to squabble over whether the former LSU coach owes a $400,000 buyout.

The Advocate has received copies of both lawsuits. LSU filed its lawsuit in the 19th Judicial Court in East Baton Rouge Parish shortly after Chavis filed his suit in the 272nd District Court in Brazos County, Texas.

---
Original:
According to
The Advocate
, former LSU defensive coordinator John Chavis is suing the school claiming he does not owe a buyout that LSU is requesting from his previous contract.
quote:




---

The fight is over a $400,000 buyout that LSU and athletic director Joe Alleva believe Chavis owes the school for ending his contract before the final 11 months of the deal.

Whether he owes the buyout is all contingent on his final day at LSU. Chavis contends in the suit that his final day was Feb. 4. He says he turned in a 30-day notice – which his contract calls for – to terminate the contract without cause on Jan. 5.

---
Although Texas A&M did not announce Chavis' hire until after Feb. 4, he was seen out recruiting in Texas A&M colors during January, and was spotted with Aggies head coach Kevin Sumlin on New Year's Day, just two days after LSU's Music City Bowl loss to Notre Dame.
NOLA.com
is also reporting that if a court does decide that LSU is owed money, Chavis believes that it is Texas A&M's responsibility to pay:
quote:




---

Chavis says Texas A&M is "currently obligated to satisfy or cause to be satisfied the liquidated damages, if any, associated with Chavis' previous Employment Agreement with LSU," the suit reads. However, it claims A&M is "unwilling to tender the liquidated damages demanded by LSU because it does it does (sic) not believe that liquidated damages are called for under the Employment Agreement as mentioned above."

Chavis, who is represented by attorney Bill Youngkin, wants a court to figure out whether LSU is owed the money, and if so, what A&M is required to pay LSU. The 272nd District Court in Brazos County has the suit.

---
Related:
Popular Stories