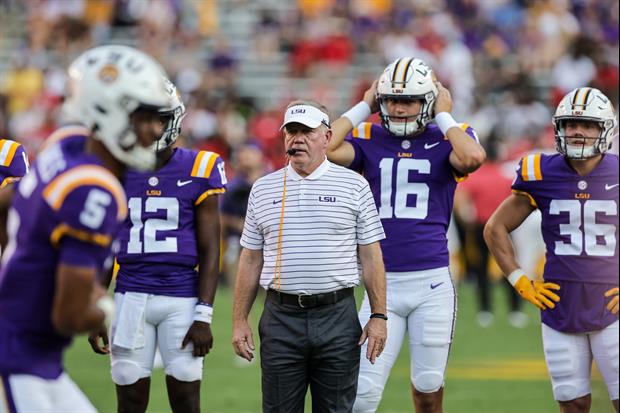 Stephen Lew-USA TODAY Sports
LSU coach Brian Kelly spoke with reporters on Monday to recap the Auburn win and look ahead to the Tennessee matchup this Saturday in Tiger Stadium.

On the Auburn win: Any road win is a great win, especially coming back from being down 17 points. Forcing turnovers and the running game was a key to victory. Kelly says he's happy with the heart and fight the team has shown, but they will need more than heart to win games going forward and need to execute better.

Kelly on Tennessee matchup: They have the fastest offense in the country, snap the ball with an average of 20 seconds left on the clock. They want to run the ball and rotate a lot of the defensive line to stay fresh.

On the 11 am kickoff time: "It's early, but it's Tiger Stadium. It's LSU Football. If you are not excited about that, then I don't know what gets you going in October. LSU vs. Tennessee in Tiger Stadium. What else is better to do?"

On Kayshon Boutte struggling: "We're trying to get him the football. He's getting double-covered a lot. The numbers won't dictate where he gets drafted. Would he like the ball more? Absolutely. Would we like to get it to him more? Absolutely."

On the passing game issues: "This past weekend was not good enough. That's coaching, and that's playing. We have to prepare better, our fundamentals have to be better. It starts with putting together a plan that can be repeated in the game. The passing game we had against Auburn is not sustainable. We can't throw it for 85 yards with the talent that we have. That won't it get it done vs. the top-10 teams we will face."

On Jayden Daniel's Injury: He's fine. He had a bursa sac injury with his knee Saturday. It's not a structural injury but very painful. MRI came back clean. He feels like he's 100 percent now.

Kelly says Daniels needs to play more aggressively: He has zero interceptions, but he wants him to accept some risk and be more aggressive. The offense is too conservative, Daniels needs to test tighter windows and receivers have to catch the ball. Kelly says a lot of the passes need to be a little bit better. Same thing with the catches by receivers.

Kelly says starting left guard Garrett Dellinger will practice and return this week.

On Sevyn Banks: He has a "spinal cord bruise." No structural issues but it'll be five or six weeks. It's similar to what Major Burns is dealing with. Burns will start running today and football drills next week, Kelly said.

On BJ Ojulari forced fumble: He told Ojulari "that's a captain play." We were down 17-0, which gave us a spark we needed.

Kelly says Mekhi Wingo has been LSU's most consistent interior defensive lineman. And Jaquelin Roy made the difference against Auburn. He played through a back injury and ed the team with six tackles.

Kelly says Fitzgerald West would have been LSU's backup center Saturday, but he was in concussion protocol.
Related:
Popular Stories