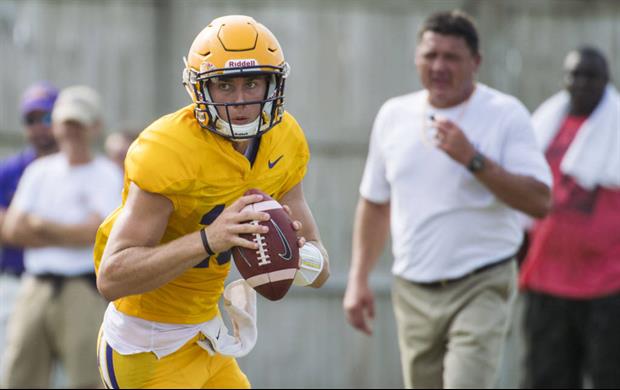 Chris Parent (@chrisparent)/LSU Athletics
Head coach Ed Orgeron met with the media after practice on Wednesday and provide a few updates on LSU's ongoing quarterback competition.
Senior Danny Elting continues to be the teams No. 1 quarterback while Myles Brennan, Justin McMillan, Lowell Narcisse and Lindsey Scott Jr. are all tied for the No. 2 spot, according to Orgeron.
Brennan, a true freshman from Bay St. Louis, Mississippi who arrived on campus this summer, received high praise from Coach O later in the media session Wednesday. Per
The Advocate:
quote:




---

"Myles Brennan comes from a passing offense. He is a natural thrower. He still has to learn the offense, still has to be more comfortable with his reads, but his release and his ability to throw the ball is very special," Orgeron said. "I tell you what — it's just fun to see, fun to see the ball come out of his hands. You know? We've got to bring him along when he's ready. We're not going to throw him into the fire. That's the worst thing we can do. We need to let him develop, let Lowell Narcisse develop, give them an opportunity to compete, and when they're ready, give them a chance."

---
Related:
Popular Stories