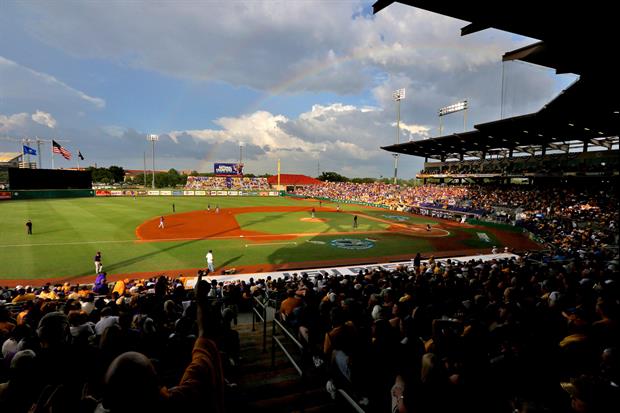 Crystal LoGiudice-USA TODAY Sports
LSU Baseball Report

For Immediate Release – April 5, 2021

McNeese State Cowboys (14-13) at LSU Fighting Tigers (17-11)

DATE/TIME
·Tuesday, April 6 @ 6:30 p.m. CT

STADIUM
·Alex Box Stadium, Skip Bertman Field in Baton Rouge, La.

RADIO
·LSU Sports Radio Network affiliates
·Live audio at www.LSUsports.net/live; Live stats at www.LSUstats.com

ONLINE
·The game may be viewed on SEC Network +, accessible at Watch ESPN.com and the Watch ESPN app

SERIES RECORD VS. McNEESE STATE
LSU leads the overall series with McNeese State, 30-12, though the Cowboys posted a 2-0 win over the Tigers the last time the teams met on March 26, 2019, in Baton Rouge. LSU has won 12 of its past 15 games versus McNeese State. The Tigers had won 11 straight games over the Cowboys before McNeese State defeated LSU 7-0 in 2016 in Baton Rouge and 5-4 in 2017 in Lake Charles. LSU recorded a 13-3 win over the Cowboys in 2018 in Baton Rouge before McNeese defeated the Tigers in '19 at Alex Box Stadium.

PITCHING MATCHUP
LSU – Fr. RH Garrett Edwards (0-2, 3.38 ERA, 13.1 IP, 6 BB, 14 SO)
MSU – TBA

QUOTING PAUL MAINIERI
"Tuesday's game starts the second half of the regular season, and we just have to get better. We've got to keep plugging away and stay positive with the kids and keep working with them. Hopefully, we'll get better and start piling up some wins. This game also carries a lot significance because it promotes awareness of prostate cancer, and I encourage all men over 40 to have a prostate cancer screening done on an annual basis. Early detection is critical to successful treatment."

ABOUT THE TIGERS
·Tuesday's contest is LSU's annual Prostate Cancer Awareness Game, as the Tigers will wear light blue batting helmets to promote the early detection and treatment of prostate cancer in men.

·Freshman rightfielder Dylan Crews led LSU with five RBI in four games last week, including one double, one homer and two runs scored … Crews is No. 2 in the SEC in base hits (40), No. 3 in total bases (71), No. 4 in runs scored (30) and No. 6 in on-base percentage (.473).

·Freshman right-hander Blake Money turned in two solid relief efforts last week, working a total of 6.2 innings and allowing three runs on five hits with one walk and six strikeouts … Money fired a career-high 4.2 innings on Friday versus Vanderbilt, limiting the Commodores to three runs on five hits with one walk and four strikeouts.

·Junior right-hander AJ Labas delivered a strong start for the Tigers in Saturday's game versus Vanderbilt, as he pitched 5.1 innings and allowed three runs on nine hits with one walk and seven strikeouts … Labas is No. 10 in the SEC in innings pitched this season with 38.2.

·Junior leftfielder Gavin Dugas is No. 4 in the league in RBI with 31 … freshman first baseman Tre' Morgan is No. 2 in the SEC in triples (3), No. 3 in runs scored (31), No. 4 in doubles (9), No. 5 in stolen bases (8) and No. 9 in on-base percentage (.455) … sophomore third baseman Cade Doughty is No. 2 in the SEC with nine home runs, and he is No. 7 in the league with 30 RBI.

·Junior right-hander Landon Marceaux is No. 6 in the SEC in earned run average with a 2.01 ERA in 40.1 innings … Marceaux is limiting opponents to a .184 cumulative batting average, and he has 47 strikeouts, an average of 10.49 Ks per nine innings … Marceaux is No. 6 in the SEC in innings pitched (40.1), and he is No. 9 in opponent batting average (.184).

·Freshman right-hander Will Hellmers is third in the SEC in pitching wins with five … Hellmers is 5-1 this season with a 3.75 ERA and 26 strikeouts in 24 innings.

ABOUT THE COWBOYS
·McNeese head coach Justin Hill was a pitcher at LSU in 2001 and 2002 … he is in his eighth season at the helm of the Cowboys program.

·The Cowboys are hitting .279 as a team with 51 doubles, 13 triples, 11 homers and 27 steals in 30 attempts … the McNeese pitching staff has a 4.92 cumulative ERA and is limiting opponents to a .238 batting average.

·McNeese is led at the plate by outfielder Clayton Rasbeary, who is batting .382 with 11 doubles, three triples, four homers and 23 RBI … infielder Nate Fisbeck is batting .310 with 11 doubles, one triple, three homers and 25 RBI.
Popular Stories