KeithN
Texas
Member since Aug 2022
64 posts

Gavin Dugas led the SEC in RBI's in 2021
Posted by KeithN on 10/2/22 at 10:01 pm
24
1
Gavin's veteran leadership will be paramount this season, hopefully he returns to form and has another '21 type year. Geaux tigers
sta4ever
LSU Fan
Member since Aug 2014
12036 posts

TigernMS12
LSU Fan
Member since Jan 2013
5416 posts

Posted by TigernMS12
on 10/2/22 at 10:16 pm to KeithN
And he's gonna be what, the 5-6 best bat this year which is saying something to have a guy who led the SEC in RBIs in the 5-7 hole in the lineup
tigerinthebayou
Army Fan
Member since Oct 2009
1550 posts

Posted by tigerinthebayou
on 10/3/22 at 12:37 am to KeithN
Seemed like he dealt with injuries a lot last year and that I think hampered him. Like you said hopefully he stays healthy and gets back to 2021 form because he can make an already loaded lineup that much better.
AtlantaLSUfan
LSU Fan
Baton Rouge and Atlanta
Member since Mar 2009
20777 posts

Posted by AtlantaLSUfan
on 10/3/22 at 5:49 am to KeithN
Gavin was an old soul and throw back guy when he was a freshman. I'm so glad he is staying to bridge the gap between the past and current team.

Will be great when he gets to play in Omaha.
MorbidTheClown
LSU Fan
Baton Rouge
Member since Jan 2015
56187 posts

Posted by MorbidTheClown
on 10/3/22 at 9:19 am to KeithN
LSUBaseballData
@LSUBaseballData
·
11m
TOP TRACKMAN EXIT SPEEDS FROM LAST WEEK'S LIVE AB'S:
Tommy White 109.8 mph
Dylan Crews 107.9 mph
Dylan Crews 106.8 mph
Tommy White 105.5 mph
Dylan Crews 105.2 mph
Tommy White 105.1 mph
Tommy White 105.0 mph
Gavin Guidry 104.7 mph
Josh Pearson 104.5 mph
Josh Stevenson 104.0 mph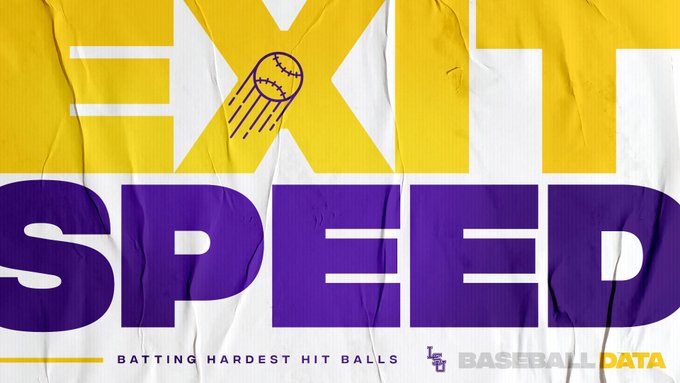 Back to top