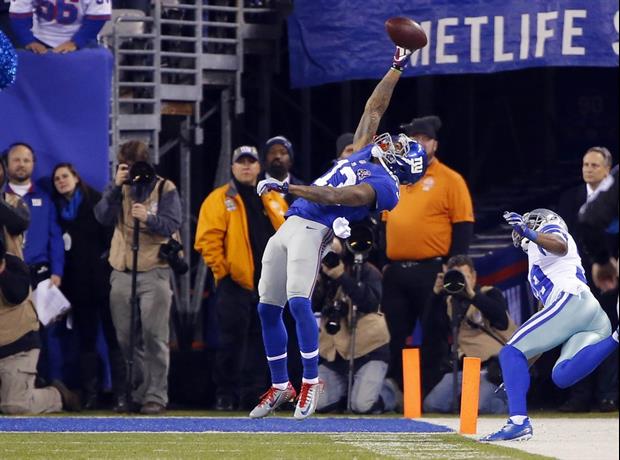 Jim O'Connor-USA TODAY Sports
If you're in your fantasy football championship this week, odds are you probably have this former LSU Tiger on your roster...
quote:




---

According to CBS Fantasy Sports, Odell Beckham, Jr. leads the way, appearing in 41% of all league final matchups this week. This is a testament to several things, because Odell Beckham didn't even make an appearance in a NFL game until week 5. Teams that stayed active and were working the waiver wire or monitoring his situation have an advantage. Also, Beckham's hot streak likely was a decisive factor for teams down the stretch (and his 3 touchdown game last week likely swung many a semifinal matchup).

---
That's pretty cool. Here's who else you may have...
Odell Beckham, Jr. (41%)
LeVeon Bell (38%)
DeMarco Murray (33%)
Baltimore Ravens Def/ST (32%)
Andrew Luck (30%)
Rob Gronkowski (28%)
Dez Bryant (28%)
Antonio Brown (28%)
Demaryius Thomas (25%)
New England Patriots Def/ST (25%)
Marshawn Lynch (25%)
Greg Olsen (25%)
Jeremy Hill (25%)
Related:
Popular Stories