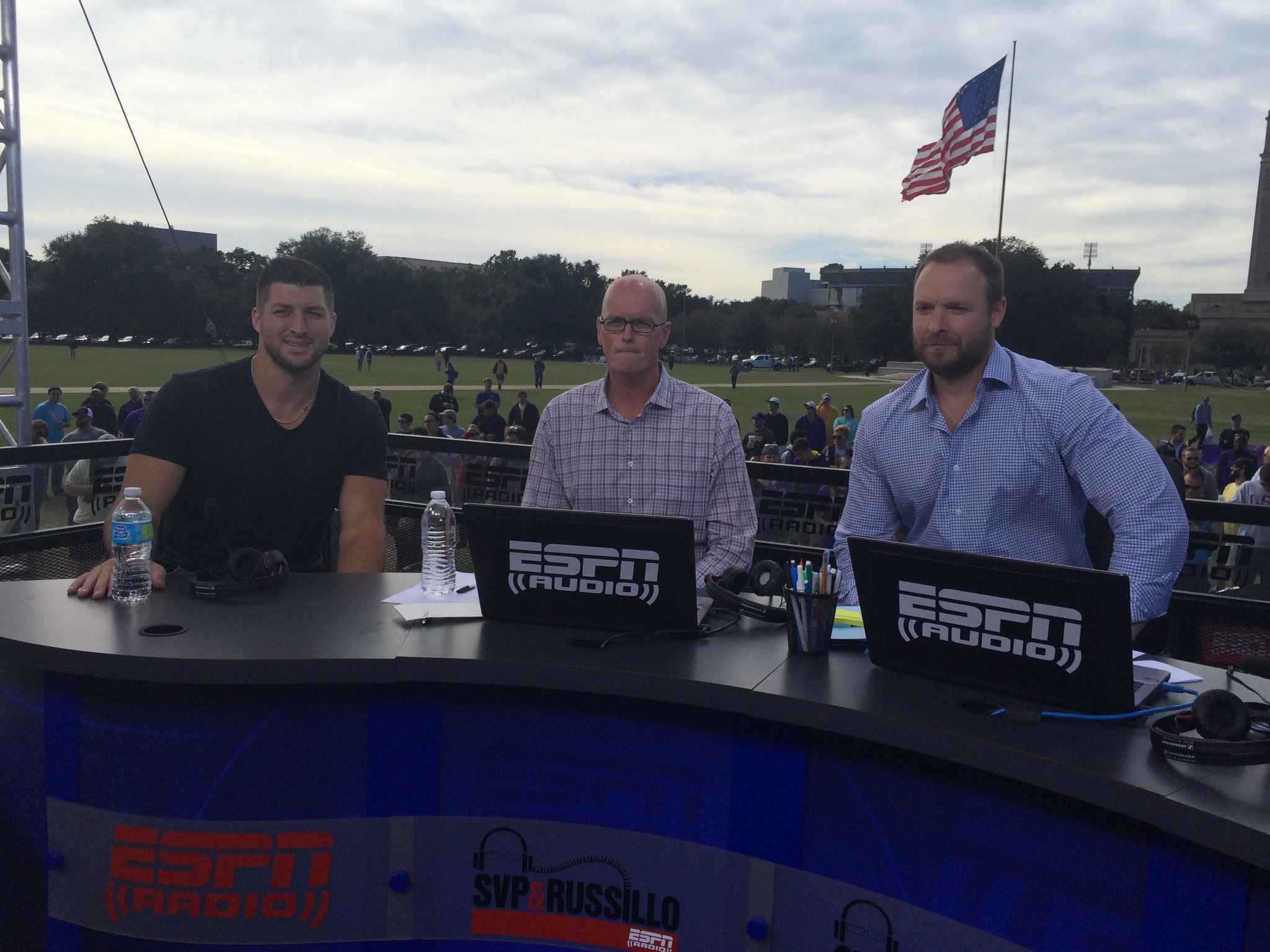 During ESPN's SVP & Russilo radio show on Friday, former Florida quarterback Tim Tebow joined the crew to discuss his memories of playing in Tiger Stadium and also discussed LSU's progression over this season:
Tebow on Death Valley:
quote:


---

"It's awesome... it's one of the best out there, if not the best... Its rowdy. They put that Tiger right where the visitors come out. It's an awesome environment."

---
On the LSU fans that got his number before the 2007 UF-LSU game:
quote:


---

"Somehow my phone number made its way to Baton Rouge. From what I heard they were announcing it everywhere."

"I got thousands and thousands of calls and text messages. I literally couldn't even take my phone [Razor flip-phone] and flip it open without answering a call because thousands of calls were coming in. I couldn't use my phone all week."

---
Van-Pelt asked Tebow about teams that have evolved and what happens that allows a team like LSU to go from what they were to what they are:
quote:


---

"They are not the same team that played Mississippi State..."

"You have to understand, a lot of these kids are 18, 19 years old. You grow, you understand these environments. You understand how to prepare in a week. You understand what a big game is like. If some of these kids went into a game thinking 'I was the best kid in Louisiana, I was the best kid in Texas, and now I came to LSU and I'm going to ball out on the field'... No. It takes preparation, it takes a matchup and taking that game plan and being able to follow through on it, not just going through the motions."

"I also feel like a few of their personnel switches has helped LSU in finding an identity in their running game and their play action deep passes with Anthony Jennings."

---
Related:
Popular Stories
Coach O said he's taking the year off...
It would be the third time...
Veteran players that have been around for a while.