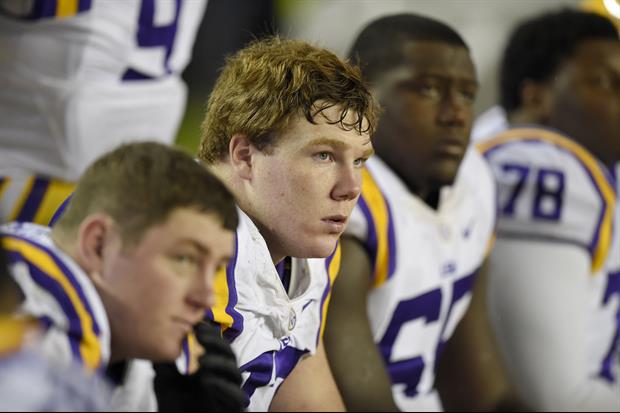 John David Mercer-USA TODAY Sports
Steve Palazzolo with
Pro Football Focus
unveiled his Top 10 offensive lined in College Football this season pegged LSU's unit at No. 1.
quote:




---

1. LSU 87.1

LSU finished with a strong effort in a 54-point outing against Texas A&M as QB Danny Etling was pressured on only five of his 28 dropbacks and RB Derrius Guice went off for 281 yards and four scores (poor Aggie tackling certainly a factor in that one). The Tigers finish the regular season with one of the nation's top trios on the interior in center Ethan Pocic (82.6 overall grade, 10th among centers) and guards Josh Boutte (82.0 overall, 12th) and Will Clapp (78.8 overall, 31st). LSU now ranks third in the nation as a run-blocking unit and fifth in pass blocking.

---
Palazzolo ranked Auburn at No. 2 (86.7) and Alabama at No. 3 (85.7).
quote:




---

Methodology:

The PFF O-Line Metric quantifies the performance of an entire offensive line on a statistical basis, using a range of data collected by Pro Football Focus' highly skilled analysis and player participation teams. For both run-blocking and pass-blocking situations, the offensive line's performance is assessed against an expected production level, which is derived from a variety of scenarios. On run plays, the key statistic is yards before contact, where the expected gain before contact is set based on factors like the number of defensive players in the box, the run concept called by the offense and the down-and-distance situation. On passing plays, the key stat is pressures allowed in terms of sacks, hits and hurries only by offensive linemen. The expectation there is set by factors such as the down-and-distance situation, the dropback-type by the quarterback and whether a play-action fake was executed. These numbers are then adjusted for the opposition and combined based upon the run-to-pass ratio that each offense plays within to ensure that each offensive line is judged for their performance level within what they are asked to execute.

---
Related:
Popular Stories