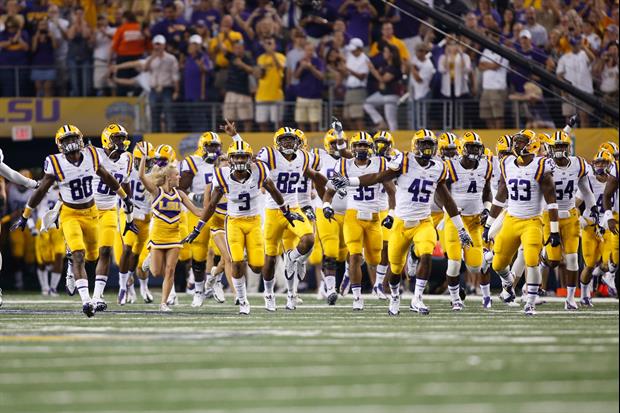 Tim Heitman-USA TODAY Sports
The above picture is from LSU's last game at AT&T Stadium vs. TCU in 2013.
The LSU coaching staff was pumping in loud crowd noises at practice on Thursday to get ready for the atmosphere inside AT&T Stadium on Sunday night vs. No. 8 Miami.
After practice, Ed Orgeron said that the crowd in Dallas will give LSU a home-field advantage similar to Death Valley, but wanted the offense, defense, and special teams to be ready for the noise.
LSU is 3-0 all-time in games played at 'Jerry World.'
quote:




---

"We are prepared on both sides of the ball," Orgeron said. "We know it's going to be a home field advantage. It's going to be like Death Valley in there, can't wait."

"But we just wanted to make sure that our offense, they haven't practice with noise yet, we want to make sure we can make our calls. And our defense, we have a lot of calls so we played it on both sides and played it for the field goal kicker."

"It was excited to put our guys in a game-type atmosphere, you could see them get ready."

---
Related:
Popular Stories