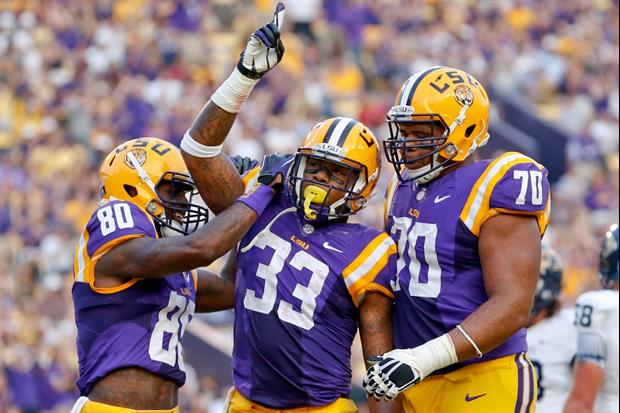 Derick E. Hingle-USA TODAY Sports
Former LSU running back Jeremy Hill was on ESPN's SVP and Russillo today and spent some time talking about his college years at LSU.
One of the questions asked to Hill was what it was like to see former teammates like Odell Beckham Jr., Jarvis Landry, and Zach Mettenberger have such success so quickly in their NFL careers.
quote:




---

"That the reason why we went to LSU," Hill said. "I've been knowing all of those guys since we were 15-years old going to camps."

"Me and Odell drove 12-hours to go to a camp in Florida. We have just been really close and we all decided why not do something special and all go to LSU and try to make something happen. And thats what we did and we all had great successful careers there"

"For us to transfer that to the next level, it really surreal. Seeing those guys have success really motivates me a lot."

---
The former LSU running back also went on to say that there is nothing like playing in Tiger Stadium on Saturday night...
quote:




---

"I've seen nothing like it, just from playing on the road," Hill said. "It's truly a unique experience."

"When you get to share that experience with some of your best friends, it's truly a unique opportunity.

---
Scott Van Pelt wondered what it was like to have so many talented players at LSU as the same time, saying "that sort of what LSU is I guess?"
quote:




---

"Year in and year out," Hill said, "I don't know what numbers we have now, but I'm sure we are probably up there at the top as far as NFL players."

"It's just year in and year out with talent. And it's going to be like that next year."

---
Related:
Popular Stories