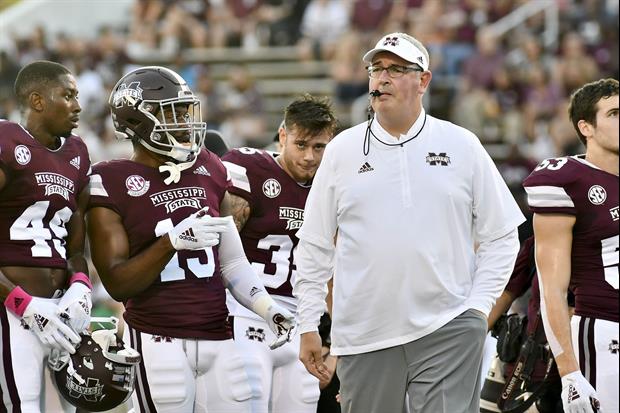 Matt Bush-USA TODAY Sports
Mississippi State coach Joe Moorhead met with media on Monday to preview Saturday's upcoming game between LSU and the Bulldogs at Tiger Stadium.

Here's the transcript from his presser, followed by questions from the media:

"Moving ahead to LSU, led by head coach Ed Orgeron, who is 21-7 in his time there and currently ranked No. 5 in the country. [They] are coming off of a win, a very impressive win, over No. 2-ranked Georgia. [LSU] is 6-1 on the season and 3-1 in the SEC. LSU has won 21 straight home games in the month of October, so that is very impressive. Under Coach Orgeron's guidance, they are 12-0 in SEC games when scoring at least 20 points. This is their homecoming game, so it is going to be a very raucous, intense, very exciting atmosphere, so we are fired up for that."

"Our keys to victory for the game: we are going to need to be able to control the controllable, which is our attitude, our effort and our execution. We are expecting a lot of crowd noise and we will be working on that this week. It is tough to simulate, but we are going to do our best. It is going to be their homecoming and all of those circumstances that are going to force a tremendous amount of focus from us. We are going to need a great week of practice to earn the right to take the field with confidence. We will have to play with fanatical effort and surgical precision to beat another top-ranked team in the country. One play at a time with a championship standard. As always, explosive plays and turnover margin will play a huge factor in deciding the outcome of the game. As will the run game, stopping the run, third down and the red zone."

"Looking at some of the statistics in comparing the two teams. Scoring offense, both teams are averaging right around 32 points per game. In scoring defense, we are leading the country and the conference giving up 12 [points per game], they are right behind at 17 [points per game]. We are leading the conference in rushing offense, they are sixth, averaging 200 [yards] per game. Rushing defense, we are second [in the conference], they are fifth. So both teams are doing a really nice job there. Third down conversions, we are second in the conference offensively, and defensively we are third, giving up just 26 percent. They are giving up right around 35 percent [third down conversions]. So, it will be a really good challenge there. Looking on the other side, in turnover margin, they are second in the conference [at] plus-nine. We are fifth in the conference [at] plus-three. In red zone offense, they are first [in the conference] and we are third. So, all of those critical factors, it is interesting to see that we are kind of sitting right in the same areas in all those statistical categories."

"We are fired up for the challenge, the kids are excited, a lot of positive momentum, as I mentioned before. A lot of great football in front of us."

On LSU's fourth-down success…
"I think they have a lot of confidence in their run game right now. I think both backs run with great pad level. They fall forward, and I really think it is representative of how they are playing as a whole right now with a ton of confidence and playing to win rather than trying not to lose. So, I think it is something kind of like how we went for it a couple times there on fourth down. You want to show confidence in your kids and their ability to make a play and I think Coach Orgeron and their team are playing with that kind of confidence right now."

On looking at last year's game versus LSU…
"Yeah we always look at it because of personnel matchups and things like that … You kind of take with a grain of salt because it's a different year and a different team just like looking at the Auburn game from last year it was 49-10 in the wrong direction. So, certainly from a schematic stand point is there anything we can do that's a positive factor for our game plan but probably more personnel than anything."

On if he has ever faced LSU DC Dave Aranda during his career…
"I've gone up against his style of defense. He left Wisconsin the year before we played them in the Big Ten Championship Game. I don't think they changed scheme very much but I guess to answer your question, no, I have not called plays against him."

On LSU DC Dave Aranda's scheme and what makes them different…
"I think a thing that a lot of top-notch defensive coordinators across the country like Dave Aranda, in their schemes they understand how an offense is attempting to attack them and why and works to take those things away, but at the same time combines a bunch of aggressiveness where they are attempting to force the hand of the offense. They know, based on what they run, how people are going to attack them and have a bunch of good counter punches. So, I would say it's a combination of aggressiveness, scheme and in-game adjustments that he does a really nice job of."

On playing in Death Valley on Saturday night for his first time…
"I'm excited that they have the line markers marked off every five yards I think that's pretty cool, and you don't see that very often. They have a tiger down there. That's pretty neat. To me more than anything, the great thing about college football is the passion of the fan base particularly in this conference. I hear they are as good as any and they get fired up and they get after you and they are into the game and they are going to make a challenging atmosphere. So, I think that is what I'm most excited for."

Related:
Popular Stories