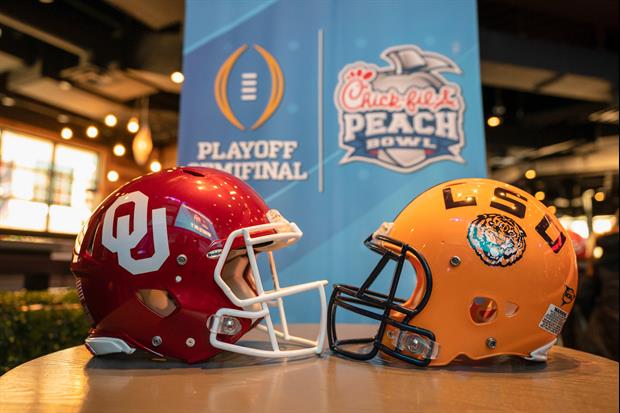 Abell Photography
Game Day Reminders for Fans Attending 2019 CFP Semifinal at the Chick-fil-A Peach Bowl

ATLANTA (Dec. 27, 2019) –
Fans attending the 2019 College Football Playoff Semifinal at the Chick-fil-A Peach Bowl in Atlanta on Dec. 28 are encouraged to arrive early to the stadium and are advised to be informed of the following game day reminders:
Clear Bag Policy
In the interest of enhancing existing security measures at Mercedes-Benz Stadium and the Georgia World Congress Center, the Chick-fil-A Peach Bowl and FanFest will strictly enforce a bag policy regulating the size and type of permissible bags.
Fans will be able to carry the following style and size bag, package, or container at FanFest, stadium plaza areas, stadium gates, or when approaching queue lines of fans awaiting entry into the stadium:
-Bags that are clear plastic, vinyl or PVC, and are no larger than 12" x 6" x 12"
One-gallon clear plastic freezer bag (Ziploc or similar)
-Small clutch bags, with or without a handle or strap, that do not exceed 4.5? x 6.5? (approximately the size of a hand)
-An exception will be made for medically necessary items after proper inspection at a gate designated for this purpose.
Bags will be monitored at secondary security perimeter locations set up around Mercedes-Benz Stadium and Georgia World Congress Center, and increased law enforcement and K-9 patrols will be prevalent throughout the area.
Items that are typically carried in diaper or baby bags must be carried in a clear bag that meets the standards of the bag policy.
Fans may still bring items such as binoculars and cameras, provided they are not in cases, as well as smart phones into Mercedes-Benz Stadium and Georgia World Congress Center.
Bag valet stations will be available outside of the secondary perimeter near Gates One and Two, where fans can pay $5-$9 to store bags that do not meet these requirements during the game.
Working personnel, including media, will enter Mercedes-Benz Stadium through designated gates where they are required to show appropriate credentials and will be subject to screening and bag inspections. For more information on the clear bag policy or the Chick-fil-A Peach Bowl's enhanced security efforts, visit
LINK
/.
Fraudulent Tickets
Fans planning to attend this year's College Football Playoff Semifinal at the Chick-fil-A Peach Bowl are encouraged to be alert for the possibility of fraudulent tickets as the game is sold out.
Chick-fil-A Peach Bowl event organizers advise fans to avoid purchasing tickets from unofficial third parties, especially in areas around Mercedes-Benz Stadium on game day. Fans looking to buy on game day are encouraged to purchase from the Bowl's official ticket exchange through Ticketmaster.
LINK
The only valid sales entities for the 2019 Chick-fil-A Peach Bowl are the participating university ticket offices, Mercedes-Benz Stadium, Ticketmaster's Verified Resale Exchange, PrimeSport and the Chick-fil-A Peach Bowl Ticket Office.
If your tickets do not scan at the gate, please visit the Box Office at Gate 1, which will be open from noon ET until halftime, for resolution. Fans who have been sold fraudulent tickets are encouraged to report the matter to the Atlanta Police Department immediately.
Cashless Stadium
To speed transactions and shorten waits times, Mercedes-Benz Stadium is a cashless facility.
The venue no longer accepts cash inside the stadium, requiring payment with a card or mobile payment services such as Apple Pay.
In an effort to include everyone, fans without their own cards can visit any of the 10 kiosks that have been installed throughout the stadium where cash can be loaded onto prepaid debit cards with no transaction fee. Those cards then can be used for purchases inside the stadium. Balances remaining on the cards also can be spent anywhere VISA debit cards are accepted outside the stadium.
For more details on Mercedes-Benz Stadium's new cashless policy, please visit:
LINK
The College Football Playoff Semifinal at the Chick-fil-A Peach Bowl between No. 4 Oklahoma and No. 1 LSU will be played Saturday, Dec. 28 at 4 p.m. ET in Mercedes-Benz Stadium. Gates will open to fans two hours before the game.
Related:
Popular Stories