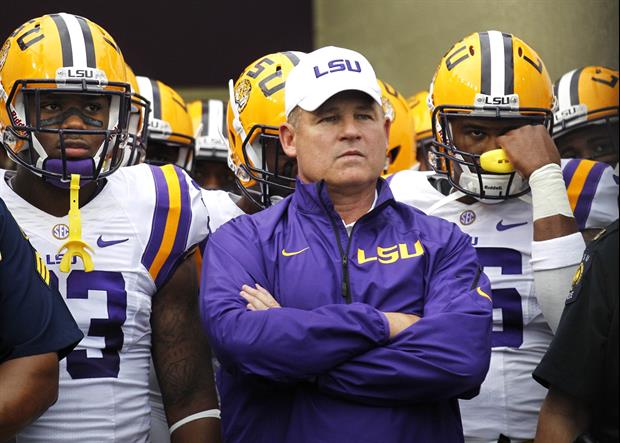 Crystal LoGiudice-USA TODAY Sports
LSU put together one of the best classes in program history on National Signing day earning The Tigers the #2 class ranking. In case you missed the player summaries posted on the recruiting board by redfieldk717, we have included them below. Check it out:

1. Brandon Harris 6'3" 193 QB, Bossier City, LA (Parkway)
Brandon is a 4 star QB that is thought by many to have the strongest arm of any prospect in the country. If you think that is impressive, he also runs a 4.5, 40 yard dash. This pass first, run second, natural born leader will compete for early playing time and be the next great to take snaps for the purple and gold.

2. Ed Paris, 6'1" 190 CB, Mansfield, TX (Timberview)
Ed is a 5 star corner that was one of the first verbal commits of this class and the most vocal. He played a pivotal role in landing several big fish, not to mention he is an elite shut down corner comparable to Darelle Revis (maybe you have heard of him before?).

3. John Battle 6'2" 180 CB/Safety, Hallandale, FL (Hallandale)
John is a 4 star safety out of Florida who has one of the most impressive films of anyone in the country. He is incredible in run support and uses the hit stick often. His instincts are what make him great and allow him to stop the run AND defend the pass….something LSU has missed since the departure of Eric Reid.

4. Donnie Alexander, 6'1" 195 OLB, New Orleans LA (Edna Karr)
Donnie is a 3 star linebacker from New Orleans that I like to compare to current LSU linebacker, Kwon Alexander and not because of their last names. Although he is a bit undersized, his speed and football IQ make up for what he lacks in measurables.

5. Jacory Washington, 6'5" 220 Tight End, Westlake, LA (Westlake)
Jacory is a 4 star tight end that dominated the Under Armor All American Game in early January. He has the size of a tight end but the speed and agility of a wide receiver. LSU is known for their blocking tight ends so look for Cam Cameron to use Jacory all over the field.

6. Will Clapp, 6'3" 270 OL, New Orleans, LA (Brother Martin)
Will is a 4 star guard that is just nasty and there is no other way to put it. Defensive ends beware of this pulling poltergeist on counter plays and trap blocks.

7. Garrett Brumfield, 6'4" 272 OG,Baton Rouge, LA (University Lab)
Garrett is a 4 star guard who some believe may slide out to tackle before it is all said and done. He is regarded by several recruiting services as the top ranked guard in the country. Like Clapp, he is mean and athletic. Leonard Fournette is happy to have this guy blocking for him.

8. Tony Upchurch, 6'2" 200 WR, Pearland, TX (Dawson)
Tony is a 4 star wide receiver / H back from Texas. I have heard coaches and recruiting analysts compare his game to Anquan Boldin, big body and physical receiver that catches everything.

9. D.J. Chark 6' 170 WR, Alexandria, LA (Alexandria)
D.J. is a 3 star wide receiver who flew under the radar playing in the relatively unnoticed, for high school football, Alexandria area. He has elite speed and quickness. It will be interesting to see whether he plays corner or wide receiver at the next level.

10. Clifton Garrett 6'2" 228 ILB Plainfield, IL (Plainfield South)
Clifton is a 5 star and the number 1 rated middle linebacker in the country, from Illinois. The most impressive part about his game is his intelligence, which bodes well in leading a complicated John Chavis defense. He has all of the physical tools and words cannot really describe how good this young man is going to be.

11. Trey Quinn 6'1" 200 WR Lake Charles, LA (Barbe)
Trey is a 4 star wide receiver and the national record holder for the most receiving yards ever in a high school career. He runs a sub 4.4, 40 yard dash and has a 39 inch vertical with hands like Jarvis Landry…..enough said.

12. Jamal Adams 6'1" 200 Safety, Carrollton, TX (Hebron)
Jamal is a 5 star and thought by many to be the best safety in the country. He will be ready to play from day one at 200+ lbs and 4.5 speed…. I see him as a true free safety and comparable to Ed Reed.

13. Cameron Gamble 5'11" 190 Kicker, Flower Mound, TX (Flower Mound)
Cameron can kick the ball. To put it simply, there will probably never be a kick returned against him. As a high schooler he is already putting every kick out of the back of the end zone.

14. Sione Teuhema 6'3" 211 DE, Keller, TX (Keller)
Sione is a 3 star defensive end that grew 4-5 inches in the past year and a half. Star gazers beware; this kid is the real deal. He is strong as an ox and fast. He can rush the passer, stop the run and pass cover. His "little" brother happens to be a LSU commit for 2015 and a 5 star offensive tackle.

15. Darrel Williams 6' 220 RB, Marrero, LA (John Ehret)
Darrel is a 4 star running back that worked his butt off for an LSU offer, that came pretty late in the process. He will compliment Fournette very well as a short yardage back and a grinder that will wear out opposing defenses.

16. Devin Voorhies, 6'2" 185 Safety/WR, Woodville, MS (Wilkinson County)
Devin is a 4 star safety and the #1 rated player in the state of Mississippi. At 6'2", he can play wide receiver or safety. He is a quiet and reserved kid from the small town of Woodville but he will light your butt up!

17. Trey Lealaimatafao 6'2" 301 DT, San Antonio, TX (Warren)
Trey's 3 star rating is laughable and if you do not believe me, watch his highlights on you tube. The only "knock" on him by analysts is his height, which is the most overrated measurable out there in my opinion. He is probably the most underrated player in the class and will compete for early playing time.

18. Travonte Valentine 6'3" 338 DT, Hialeah, FL (Champagnat Catholic)
Travonte is a 4 star, monster, defensive tackle. Outside of Fournette, I am most excited about this young man. His first step is lightning fast and has the size of a nose tackle. He can stop the run and rush the passer from inside.

19. Russell Gage 6'0" 175 ATH, Baton Rouge, LA (Redemptorist)
Similar to Chark, Russell is an unknown that has elite speed. He waited until last week to receive his LSU offer and worked incredibly hard all year long. He is another one that could be a corner back or wide receiver.

20. Davon Godchaux 6'4" 265 DE, Plaquemine, LA (Plaquemine)
Davon is a 4 star defensive end that is currently rehabbing from a torn up knee. He will likely red shirt his freshman year but don't sleep on this guy, monster potential and may even slide to defensive tackle if he puts on good weight.

21. Malachi Dupre 6'4"175 WR, River Ridge, LA (John Curtis)
Malachi is a 5 star and #1 rated wide receiver in the country that LSU fans sweated over for the entire year, only for him to announce his intent to play for the Tigers on signing day. Like Jacory, he dominated the Under Amor All American work outs all week long. I wish that I could compare him to a previous LSU receiver but I feel it would not do him justice. He is just that good.

22. Leonard Fournette 6'2" 225 RB, New Orleans, LA (St. Augustine)
Leonard is the #1 rated player in the country. He is a once in a generation type of player. His running style is most comparable to Adrian Peterson….take that in for a second. At 6'2" and 225 pounds, he will knock you out then out run you. LSU has not had a Heisman Trophy winner in some time, which could change in the next few years with LF.

23. Deondre Clark 6'3" 235 DE, Oklahoma City, OK (Douglass)
Deondre is a 4 star and #1 rated player in the state of Oklahoma. With his mom battling cancer, many believed he would stay close to home and attend OU. LSU fans should be thrilled to havethis young man for many reasons on andoff of the field. He has the prototypical size at defensive end with the speed and high motor to go with it.

Big Thanks to redfieldk717 for this. Geaux Tigers!
Popular Stories