Stadium Rat
LSU Fan
Metairie
Member since Jul 2004
8568 posts

re: Latest F&D Board Cookbook and Jambalaya Calculator Available Here (Links)
Posted by Stadium Rat
on 7/2/21 at 7:25 am to Gris Gris
Creole Eggplant With Shrimp
Recipe courtesy of Mandina's Restaurant, New Orleans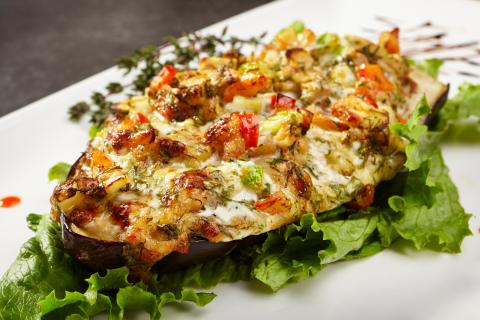 Serves 6
3 tablespoons olive oil
1/2 yellow onion, chopped
1 bell pepper, yellow, red or green OK
1/2 cup celery, chopped
2 tablespoons garlic, chopped or crushed
1 cup tasso ham
2 medium eggplants, peeled and sliced 1-inch thick
1/2 cup chicken stock
1 lb shrimp, peeled and deveined
1 cup Italian-seasoned breadcrumbs
Creole seasoning
pepper
Preheat oven to 350°F. Heat the oil in a large pot over medium heat. Add the onion, bell pepper, celery, and garlic and sauté for 4 to 5 minutes. As the onion becomes translucent, add the tasso and continue to saute for 1 to 2 minutes more. Add the eggplant, chicken stock, and shrimp. Mix thoroughly and remove from the heat.
Stir in the breadcrumbs slowly, allowing them to absorb the stock. Season with Creole seasoning and pepper to taste. If the overall mixture becomes too dry, add a bit more stock to moisten it.
Spread the mixture in a 3-quart casserole dish and bake for 20 minutes.
This post was edited on 7/2 at 7:28 am
Back to top
Follow TigerDroppings for LSU Football News