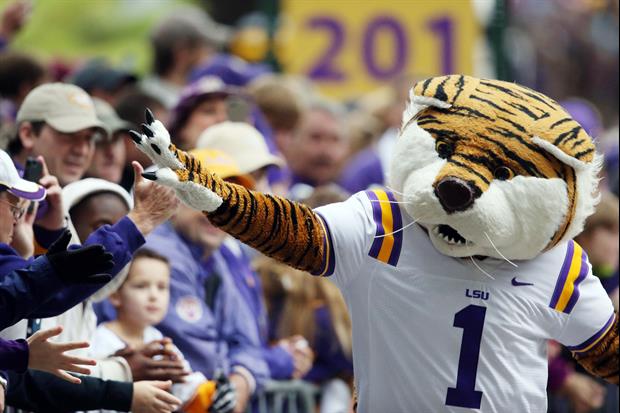 Crystal LoGiudice-USA TODAY Sports
LSU ATHLETIC COMMUNICATIONS

For Immediate Release - August 29, 2018

LSU Announces New Tiger Fan Council, Applications Open
BATON ROUGE -- LSU Athletics today opened the application process for the newly created Tiger Fan Council. The council, made of LSU fans from all walks of life, will provide feedback and insight directly to the athletic department in order to continually improve the fan experience in all sports for LSU fans.
"Our fans are the best and most passionate in America," said Vice Chancellor and Director of Athletics Joe Alleva. "They've made LSU the best experience in college sports and we believe this group will help us get even better."
Members of the council will be selected this fall and will be made up of approximately 25 passionate fans representing the overall and diverse demographics of the fan base. They will focus largely on the game day fan experience for all sports.
"It's a big issue and we are taking a holistic approach to improving in every area," said Senior Associate Athletic Director Robert Munson. "The game-day experience begins when a fan decides they want to buy a ticket and it ends when they get home the night after an event. Everything that happens in between is the game-day experience and we want this council to help us identify ways we can make that experience even better."
Munson said issues that will be discussed will include tickets, traffic and parking, customer service, concessions, in-game entertainment, facilities, security, seating and more. LSU receives a steady-stream of data from fans via surveys to ticket holders and event goers. Those surveys help the athletic department pinpoint issues to improve and ideas to explore. The Tiger Fan Council will add invaluable face-to-face interaction.
"In order to continue to be the best, we need to make sure we always find more ways to actively listen to our fans," said Munson. "Fan experience is a top priority for us and this council will help us develop what that looks like for years to come."
Those who are selected will be asked to commit at least four half-days a year to conference gatherings and to make an overall two-year commitment.
"It will require commitment, but it will also be a real honor for those who are selected," said Munson. "They're going to be a part of something special at LSU, something that truly impacts our fans, our student-athletes and our entire university."
Quarterly meetings will provide opportunities for the council to provide feedback to athletics staff on new developments, ideas and concepts. Additionally, council members will be asked to submit their own ideas and items they would like to see instituted at LSU. They will also be given unique access to LSU sports including hearing directly from coaches and athletics administration.
https://lsusports.net/fancouncil
Related:
Popular Stories