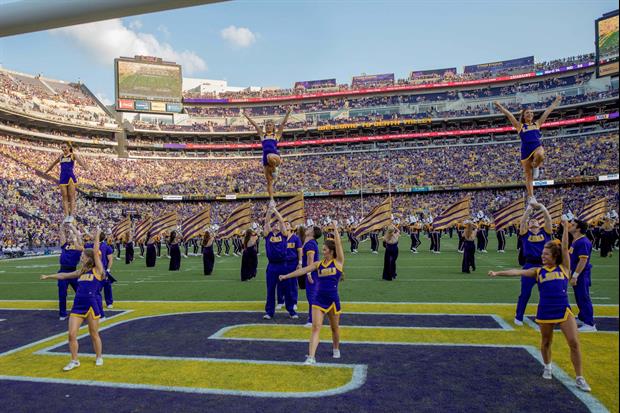 Stephen Lew-USA TODAY Sports
LSU ATHLETIC COMMUNICATIONS

For Immediate Release - October 8, 2018

LSU ADVISING FANS TO ARRIVE EARLY ON SATURDAY

BATON ROUGE – LSU is advising fans to arrive early for the Tigers' matchup against No. 2 ranked Georgia as the school is expecting one of the largest game day crowds ever on campus.

Kickoff for the game is set for 2:30 p.m. on CBS. The game is completely sold out and Georgia has sold all of its 6,000-ticket allotment for the game. Saturday's game marks the first visit to Tiger Stadium for Georgia since 2008.

Arrive Early

Fans are encouraged to arrive early and to carpool when possible to reduce the number of vehicles on the LSU campus. Heavy traffic is anticipated for the 2:39 p.m. kickoff so fans are encouraged to plan ahead by locating their parking area at LSUsports.net/gameday to determine the best route. The Waze app will provide real-time traffic updates and suggested routes to campus. Follow @LSUsports and @LSUgameops on Twitter for pregame and post-game traffic and parking alerts.

Parking lots open at 7 a.m. on Saturday. Day of game parking for purchase is available on a first-come, first-serve basis on the east side of campus. There are many free lots available on the south side of campus – Old Front Nine, Lot 413, Hayfield Lot, Golf Course, Gourrier South and Levee South.

Ticket Advisory

The LSU-Georgia game is officially sold out. Fans should beware of counterfeit tickets which are common for major sporting events such as Saturday's game between the Tigers and Bulldogs. Fans should only purchase tickets from family or close personal friends or through Stubhub, which is the official marketplace of LSU Athletics at LSUsports.net/marketplace. Tickets can also be authenticated by taking them to the LSU Ticket Office.

Nicholson Gateway Fan Fest To Stay Open Late

The new Nicholson Gateway fan fest will open at 10 a.m. Saturday ahead of the LSU-Georgia matchup. The grass area across from Tiger Stadium on Nicholson Drive will feature an HD video wall, inflatables, climbing wall and food and drinks for purchase. The area will be open during the game between the Tigers and Bulldogs and will close at 8 p.m.
Related:
Popular Stories