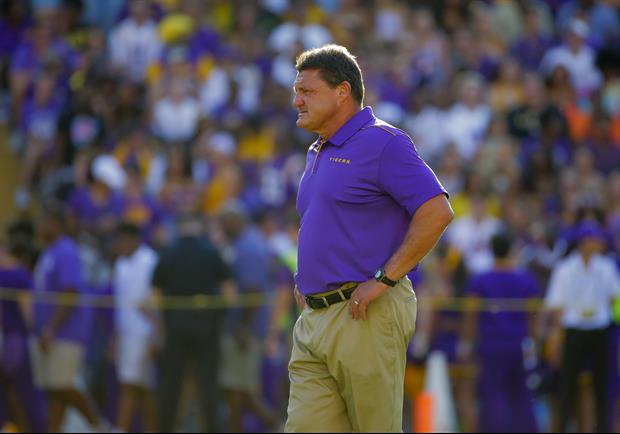 Derick E. Hingle-USA TODAY Sports
LSU ATHLETIC COMMUNICATIONS

For Immediate Release - September 3, 2019

LSU COACH ED ORGERON PRESS CONFERENCE TRANSCRIPT – Texas Game Week

BATON ROUGE – LSU's Ed Orgeron met with members of the media for his weekly press luncheon on Tuesday as the Tiger head coach reviewed last week's win over Georgia Southern and then previewed Saturday's matchup with ninth-ranked Texas.

Sixth-ranked LSU travels to Austin on Saturday for a 6:30 p.m. CT contest against the Longhorns. It's the first regular season meeting between the two schools since 1954. It's also the first time a Top 10-ranked LSU team will face a Top 10 non-conference opponent on the road since 1970. That year, second-ranked Notre Dame beat sixth-ranked and eventual SEC Champion LSU, 3-0, in South Bend.

Here's the transcript from the Orgeron Press Conference on Tuesday:

Opening Statement:

ED ORGERON: Competition Tuesday. The week's already on the way. I'm going to recap last week's game just a little bit, move on to Texas.

Very proud of our whole football team, our coaching staff, the way they prepared for this game. We were very efficient on offense, the spread offense. Got off to a good start. Joe was on the money with his passes.

I thought 14 guys catching the ball, we spread the ball around very well. Offensive line blocked, no sacks. Hold Georgia Southern to 98 yards of total offense was a tremendous job by our staff. I thought we tackled well for the first game. We won the turnover ratio, which we know those guys are plus 22. We were plus two. We worked very hard on that.

On special teams Derek Stingley showed us some stuff in the return game. Cade York was 2-2 on field goals, 7-7 for extra points. Overall I thought it was a great team effort.

Obviously we're going to face a great opponent in Texas this week on the road. It's going to be a very good challenge for our football team, but we're going to be up for it.

A little bit about Texas. They're plus two, we're plus two. Offense is led by Sam Ehlinger, quarterback, a very good football player. He's a complete football player. He does a lot of things with his feet. He does a great job with his arm. He makes some great decisions. Excellent scheme, similar to us on offense. He knows where to go with the football.

Keaontay Ingram, a big back, physical and explosive. Collin Johnson may be the biggest and one of the best receivers we see all year. We're going to have to a plan for him. Very strong up front, have a very good scheme.

On defense, 3-3-5. They're returning four starters. Their linebackers are very, very good. So is Caden Sterns, one of the best safeties we're going to see. Joseph Ossai, No. 46, is an excellent linebacker. Those guys can run and hit. They blitz a whole bunch, zone blitz football team.

On special teams they have a lot of great athletes. Jake Smith is an outstanding returner. We have to know where he's at all the time.

This is a very well-coached, good football team. Going into Austin, Texas, we have to practice the noise this week. It's going to be a loud stadium. We're playing on the turf. We're going to get there early, get ready to go. Will be a tremendous challenge for our football team.

Any questions.

Q. What is the signature of a Todd Orlando defense? Why is he so respected?
ED ORGERON: Blitz protection, blitz the run. He disguises his blitzes. These guys know what they're doing. They're good tacklers. They use their speed. I think the strength of their defense is in their linebackers and the DBs. They use them a bunch.

Q. Do you expect Saahdiq and Mike Divinity to play this week?
ED ORGERON: Yes, both of them will play this week.

Q. This is obviously not your average non-conference game. As a guy who grew up in Louisiana, talk about the cultures of Louisiana and Texas.
ED ORGERON: I remember all those comments growing up. I remember that. I remember the rivalries. I was at Arkansas, in the Southwest Conference, I know how big that is at UT. I know the people from Louisiana got to rib each other from Texas. I understand all that.

You know what, that has nothing to do with it when we kick the football. This is the LSU Tigers playing Texas on the turf, playing football, playing our type of football.

Q. Divinity is going to be back. You talked a lot about Damone Clark during camp. He had a good game one. You have Divinity, Clark, Phillips. What is the plan for those guys?
ED ORGERON: We're going to go through the week, see what happens. Obviously we're going to work Michael back in. We think Michael is an excellent linebacker for us, can play at the line of scrimmage when we need him.

We'll see how we can work those guys in. Maybe a first down situation with somebody else, third down situation with somebody else. Play all four of them equal snaps, they deserve it.

Q. You talked about similarities offensively. The one thing that stood out to me was the pass play to Terrence. Is that something when you saw that being allowed in college football, we got to take advantage of this? What are your thoughts as a defensive guy trying to stop offenses that have that advantage?
ED ORGERON: Tough to stop it on defense. We try to stop it every day in practice. We haven't stopped it yet. We're still trying to figure out a way to stop it. A great scheme by Coach Ensminger and Coach Brady.

Q. Can K'Lavon, we've all talked about him as an edge rusher. Physical at the point of attack against the run. Is that something he's developed? When you recruited him, did you know that was part of his game?
ED ORGERON: He's gained some weight obviously. He's very thick. He has a great lower body, has a lot of strength in his lower body. He's worked hard. This injury allowed him to get stronger in the weight room. Tommy has done a tremendous job with this guy.

He's very explosive. As you can see, he's all muscles. The way he played last Saturday night is how we expect him to play.

Q. Where do you think the maturity of your team is with everyone telling them they played an amazing game? After the loss to Florida last year, you played your best game.
ED ORGERON: We'll tell on Saturday night. I expect them to play well. This is a mature team. The way they acted yesterday, was not giddy. It was a day off for them. Tell the Truth Monday. They handled the film very well. We had one of our best Monday practices we ever had.

They know the magnitude of this football game. We're not going to make it bigger than life. We've been in big games before. This is a big game and they know it.

Q. How does being on the road and dealing with that noise kind of change or challenge how the offense operates without huddling?
ED ORGERON: Silent count obviously. We're going to have some noise Tuesday and Wednesday, see the things we can do, we can't do. May have to simplify some things. Maybe some checks we can't do on the road. I think as the game goes on, you can figure out what you can and what you can't do.

Q. Lot of talk about the linebackers obviously. Two younger ones, Michael and Kendall. Do you have an update on Soni?
ED ORGERON: Soni had an operation on his hands. He's going to be out for a little while. Those two young linebackers are going to be good linebackers. They're not at the level of the other guys in front of them, but they're developing.

Q. Two questions. The offense was so good on Saturday night. Are you curious to see what it can do against a top 10 opponent? Of course, Tom Herman is being asked about LSU this week. Does that make the game any more different for you or do you really not care about all of that?
ED ORGERON: Second one first, don't care. I'm happy to be the coach at LSU. Thisis about our football players against their football players. None of that means anything.

I am interested in seeing how we protect our quarterback against all these blitzes. I do believe we have the skill and knowledge to get people open and to catch the football, make yards after catch.

But we do have to protect the quarterback first. This is going to be a challenge for us.

Q. It's going to be super hot this weekend. They have a turf field. Are you going to do anything different this week?
ED ORGERON: Obviously we've been practicing in the heat. We're going out there as many times as we can. Today we're going to practice on the grass. Tomorrow we'll practice on the turf out in the heat again. Seems like it will be a pretty nice day out there.

I talked to Louisiana Tech, talked to them about the conditions at the stadium, the conditions on the turf field. I think we're going to be fine.

Q. Do you have a comp for Sam Ehlinger that you prepared against during your time at LSU? Does he remind you of anybody that you had to prepare for?
ED ORGERON: He reminds me a little bit of Tebow. I was at another school when we had to play Tebow. I'm not saying he's as good as Tebow, I'm not saying he's not. Reminds me of that type of player, but he's a better thrower.

Q. Collin Johnson, how do you defend him? One guy, side of the field?
ED ORGERON: That stuff sounds good until they start giving it to the running back and you start missing a lot of plays.

We're going to have a sound defensive scheme. One thing I like about Coach Aranda, our defensive staff, we may have gone into last week's game about 15 different defenses. We used one. Our guys played.

We're going to go in there and play our base defense. If we need to make adjustments as the game goes on, Coach Aranda always has answers. If we can play our base defense, play the things we play well, we're always going to do that.

Q. Going back to the offense, playing a defense like this. What does need to change?
ED ORGERON: What does need to change?

Q. What different looks do you expect to give your offense playing a defense like this?
ED ORGERON: Yeah, well, first of all, our offense is going to get a lot of blitzes this week. Is that what you asked me?

Q. Yes.
ED ORGERON: A lot of pressure. Georgia Southern played the same defense we practice every day. There was not much of a change. Obviously there's going to be bigger, better athletes, especially the linebacker position, the safety position. These guys are phenomenal athletes. I think it's the strength of their team. They're going to blitz almost every down. We're going to have to pick it up.

Q. When you're trying to take the next step and get back to the elite level, how important is it to win a game like this?
ED ORGERON: It's very important. But there will be a lot of games down the road just as important or more important. We better learn how to handle this.

You want to be on the big stage at LSU, we are on the big stage. But you know what, it's not going to change our preparation. Today is Competition Tuesday. We're going to keep a level head, do the best we can today, the same thing the next day.

I'm sure when we get on that plane, we're going to be fired up, ready to go. I'm sure they will, too. The team that takes care of the ball, is the most physical, is going to win the football game.

Q. In your experience when coaches have kind of a personal and professional history with one another, like Aranda and Herman do, does it affect preparation in any way in terms of trying to make things look different, complicate matters?
ED ORGERON: I think that's overrated. I think what you see on film is what you go after. But I think that every once in a while there's some internal motivation. But Coach Aranda would never say anything like that. He's an ultimate professional. I'm sure there's a little internal motivation.

Q. Would you mind talking a little bit about Glen Logan, the camp he had. Surprised a lot of people that he got the start last week.
ED ORGERON: Thanks for mentioning that. I thought Glen played fantastic. The first play of the game, he had a cut on blocking. When you a cut on blocking, coming right out, he made a tremendous tackle.

Glen Logan did not miss one rep in camp. I can't say that for any other defensive lineman. I don't think any other offensive lineman that I know of. Glen was very, very sturdy in camp. He's come a long way.

He's an excellent lineman right now. He's one of our best lineman. He's a great young man. He doesn't say much. He's a good technician. We're proud of him.

Q. Ensminger said this summer there would be a situation where he might go with Brady on a play or something. He would have final say. How many of Brady's plays got through Saturday?
ED ORGERON: A bunch. A bunch. I was on the headset. They communicated very well. Had an open mind. I thought he called a great game. Joe made some suggestions. Some went through, some didn't. I think as the time goes on, those guys shared together. Steve calls it. It's both their ideas. I think they work great together.

Q. You mentioned the similarities between your offenses. How defensively can that help y'all prepare for all the things they can do?
ED ORGERON: We're going to prepare. How we're going to prepare for Ehlinger? It helps. We don't have a scrambling quarterback like that. Joe doesn't scramble that much in practice. He can scramble.

Ehlinger is much more of a running threat than our quarterback is. Maybe last week helped us prepare a little bit more, Georgia Southern, a running quarterback.

He's a different style than Joe. This guy can beat you with his feet, can throw the football. But he's very dangerous, especially in the red zone. They're going to give him the ball. Just like they did with Tebow, run him on the zone read. He's a little bit different than our offense in that situation.

Q. You mentioned the quarterback power, what a big part of their offense that is. What did you see in week one from Tyler Shelvin?
ED ORGERON: I want to be real careful what I say, okay? Big T, he played very well. Played very well. He had a good camp. I thought he played excellent.

Consistency is a big factor with him. He proved to us that is why we went to get him. He was the No. 1 player in the state. He played with tremendous leverage. He's an excellent athlete and plays hard.

Out of 24 plays, he had two loafs, which we grade pretty hard. 85% grade on his technique and run. A very good grade for him.

Again, we're going to face a bigger, stronger offensive line, a bigger back, better quarterback running the quarterback. We'll see how he does in a big-time game.

I do think he's going to do well.

Q. Offensively and defensively skill players are a little special. Texas had some fancy T-shirts in their pregame. Is that good motivation?
ED ORGERON: All I know is we're LSU. That's all I know.

Q. You mentioned the offensive line not giving up any sacks. That was a point of concern coming into the year. What did the film show y'all in terms of what can still be corrected, build upon?
ED ORGERON: Austin Deculus played better than he's played, with more consistency. But (indiscernible) played pretty good. He made some mistakes. Some of the other guys weren't ready. We still have the left guard position that still has to get better. Obviously Lloyd and D. Lewis, they're very consistent.

I do believe having Saahdiq back this week at left tackle is going to help us. But, again, we're going to get tested. These guys are going to blitz. They're good rushers. On the edge. We're going to have to win one-on-ones.

Q. Do you concern yourself with trying to acclimate your team to playing in a place you don't go to? When you went to Syracuse, are you trying to remind them the field is 100 by 53?
ED ORGERON: There's not enough time. There's not enough time to talk about it, to go there the day before. We don't do that. We used to go practice the day before, look at the stadium and all. We went to Cowboys stadium because it was so unique. I wanted to see that big gondola myself before I got distracted.

This will be another stadium, another crowd. We play in those stadiums in the SEC. We play on turf. We'll play in the heat. We'll have to get used to it, so...

Q. When players, high school players, see you run that kind of offense and execute that way, how much does that help you in recruiting? If you are able to do that this Saturday, how much would it help you?
ED ORGERON: Phenomenal. On the big stage. They want to see us throwing the football. They want to see us in the shotgun. The quarterbacks love seeing it. The play-makers love getting the ball in their hand. The running backs love it. Offensive linemen love it. They love seeing you scoring points.

This helps us in recruiting. Obviously we have an outstanding recruiting class. We have a great group of receivers, great group of quarterbacks. After we called all of them and say that's the offense we want to be in, we're so happy that we are.

It helps us in recruiting. Obviously Texas is a big area for us in recruiting. This is going to be a big game for us in recruiting. There's a lot of things going on this weekend that can help us even get a better class.

Q. You mentioned wanting to improve at left guard. How would you grade that position competition?
ED ORGERON: Still some room to grow. I think Adrian is the starter. Chasen Hines did not have enough practice because he was hurt. You could tell in the game he's a little rusty. He has good athletic ability. But he's got to develop as the season goes.

Q. You said you'll continue to play all five running backs. Seemed Saturday there was a predetermined order.
ED ORGERON: Yeah.

Q. Will that continue or does it go week by week? How do you manage that group?
ED ORGERON: I would like to use all five. But it all depends how the game is going. I try to keep a pulse of that. I want these young guys to get in the game, get a feel of them. I want them to get in the game what is call internals. I wanted them to get the feeling of a game, see if they can hold onto that football.

John's first play was excellent. We saw his athletic ability when he made that cut. Tyler ran well. Chris. We're going to use all five. That's going to be a cumulative effect throughout the whole season. We're going to need all five.

Q. When a defense is as aggressive as Texas appears to be, can you use that against them? Will there be the screen game?
ED ORGERON: We say feast or famine on blitzes. It's not like they're all odd man blitz, zero blitz. They have three coverage, roll, all that stuff. They can protect themselves. It's four or five slant one way, slant the other way. I'm sure our offensive guys will have some things to counteract that.

Q. Can you compare and contrast how much more decisive Joe was in this season opener compared to a year ago against Miami?
ED ORGERON: Night and day. Night and day. Confident. He was on the money. Very well prepared. Line of scrimmage, he knew where to go. All his receivers catching those balls, there's not many balls dropped. Makes you have a lot of confidence.

Q. Have you coached in that stadium when you were at USC or anywhere?
ED ORGERON: No. I played out at Texas one time, in the Cotton Bowl. That was a long time ago. That was in Dallas.

Q. Who were you with?
ED ORGERON: University of Miami a long time ago.
Related:
Popular Stories