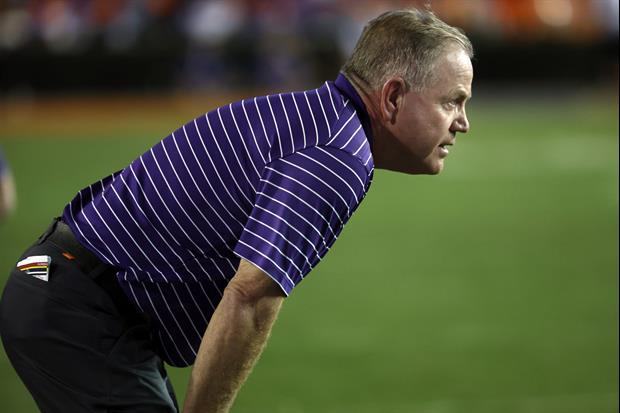 Kim Klement-USA TODAY Sports
LSU head coach Brian Kelly held his weekly press conference on Monday to recap the Florida win, preview the upcoming Ole Miss game and provide team updates.

Here's what he had to say:

On the Florida win: "Our guys eliminated distractions on the road. The sideline was excellent, our guys were being positive. Proud of the way they handled themselves. Offensively we executed very well, defensively we came up with stops when we needed them. With special teams, we all see the same thing... Our guys know they have to be accountable. We have to put them in a position to succeed."

On Ole Miss: "Another Top-10 team coming into Tiger Stadium. Lane Kiffin is a creative coach offensively and gets his team ready to play well. It's an offense that is systematic in their play calling. Dart can throw and run. They are second in sacks in the SEC. We'll have to do a really good job of protection."

On the team's progress and growth: "This team is learning so much. Unfortunately, they learned from the Tennessee loss. When you win on the road in that fashion we did, you build confidence."

On freshmen OT's Emery Jones and Will Campbell: "They have the physical traits to play in the SEC. And also have the skill you need." Kelly added that in his 32 years of coaching he doesn't remember playing two freshmen on the offensive line, let alone at tackle.

Jack Bech injury update: "He's day-to-day with an L5 back injury. It's cranky, he's a tough guy and wants to play."

Armoni Goodwin update: "He has been cleared to practice Tuesday. We hope it goes well during the week. He wants to play."

On if he will talk to the team about a chance to tie for the SEC West: "No, not really. We will talk about playing good football in front of our fans at home against a good team. Then we'll get a week off, we'll assess, and then talk about the next four weeks. There's too much football left to be played."

On the playcalling process with OC Mike Denbrock: "Mike calls the plays down to the sideline signalers. There are a couple of voices on the headset and can't be too many. I listen and remind everyone of down and distance, time outs, time management issues and make the 4th down decisions."

On officiating and play reviews: "To stop the game for so many reviews, and say 'The play stands as called' takes away from the flow. We're just slowing the game down. It's a topic we can discuss when the season ends."

On kicker Damian Ramos & his 47-yard FG: "It's loud. That's a big kick. That ices the game, and he nails it. The execution was great. Since camp, we've tried to simulate that the best we can, and he's been spot on. We felt really confident in that situation."
Related:
Popular Stories