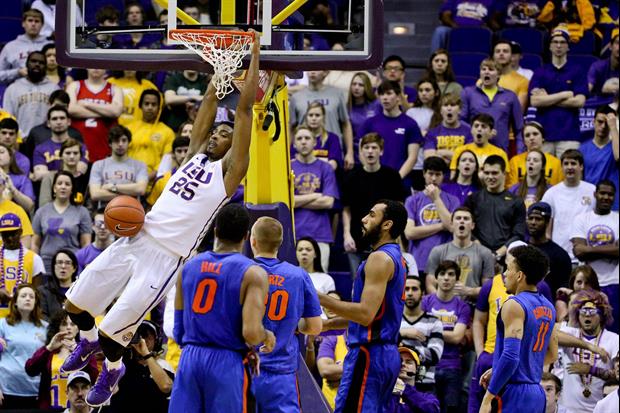 Derick E. Hingle-USA TODAY Sports
Record last week:
(1-1)
LSU 62 @ Texas A&M 68
Florida 63 @ LSU 70
Week Summary:
LSU played two familiar foes in SEC rematches this week, and the second rounds went similarly to the first rounds in both. LSU lost on the road at Texas A&M, who has quietly made their way to third in the SEC. However, the Tigers came back on Saturday and beat the Florida Gators to hold onto 5th place in the SEC. LSU has 4 more regular season games remaining on the year before the SEC Tournament.
Streak:
Win 1
Top performer:
Jarell Martin had a career high 28 points in an efficient game versus Florida. He scored 41 on the week and hauled in 19 rebounds. His breakaway dunk against Florida was the top play on Saturday according to Sportscenter Top Plays.
Cause for Concern:
LSU shot only 13 of 41 from three point range on the week. The 31.7% is not gonna cut it when teams are able to contain Mickey and Martin. See Texas A&M game for evidence.
Top Team Stat of Week:
LSU made 29 of 37 free throws on the week for a very good 78.3%. LSU has struggled from the free throw line at times this year, but they have the shooters to make lots of free throws if the concentration is there.
Rankings and Standings:
CBS RPI - 55 (LW:53)
ESPN RPI - 53 (LW:50)
BPI - 38 (LW:38)
KenPom - 32 (LW:31)
Breaking the trend:
In the LSU vs Florida game, there were 75 possessions per team. That is the highest total in any Florida game this season, a pace that was much in LSU's advantage.
Best game by a non Big5 player:
Brian Bridgewater scored 9 points in the Texas A&M game. He made 4/4 from the field and pulled down a career high 6 rebounds.
LSU Opponent who made noise:
West Virginia beat two ranked teams this week. They started with a home win against Kansas and ended this weekend with a win on the road against Oklahoma St.
Interesting Stat of the Week:
LSU scored 0.93 points per possession, which was it's lowest in a win since their 74-73 (79 possessions) victory over West Virginia.
LSU Scorers this week:
Jarell Martin 41
Keith Hornsby 23
Jordan Mickey 20
Tim Quarterman 17
Jalyn Patterson 16
Brian Bridgewater 11
Josh Gray 4
LSU Rebounders this week:
Jarell Martin 19
Jordan Mickey 10
Tim Quarterman 8
Brian Bridgewater 6
Jalyn Patterson 5
Josh Gray 4
Keith Hornsby 4
Darcy Malone 2
LSU Assists/TO this week:
Tim Quarterman 11:5
Josh Gray 6:3
Keith Hornsby 6:3
Jalyn Patterson 4:3
Jarell Martin 3:5
Jordan Mickey 1:7
Brian Bridgewater 0:2
SEC Standings:
Image Link
Bracketology:
This was a neutral/positive week for LSU and their NCAA Tournament stance. They had many of their projections move from 11 seed to 10 seed and they were on 70 of the 75 bracketolgies. Keep with the status quo and they should be able to get a 9-11 seed depending on the rest of the field.
Image Link
Most Dominant SEC Win of the Week:
Kentucky scored an unbelievable 110 points against Auburn on Saturday. They won by 35 in a very fast-paced 81 possession game.
Biggest SEC Upset of the Week:
Georgia lost at home to South Carolina on Tuesday night 64-58. Georgia cannot afford many more losses like that if they expect to make the tournament.
This week in LSU Basketball:
LSU @ Auburn - Tuesday 6:00pm ESPNU
Ole Miss @ LSU - Saturday 1:00pm FSN
Popular Stories