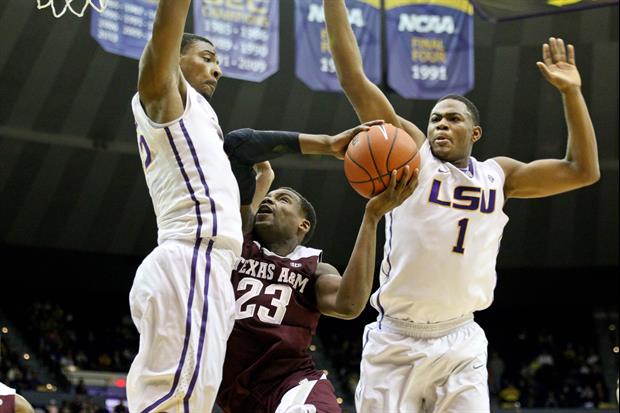 Derick E. Hingle-USA TODAY Sports
Record last week:
(1-1)
LSU 75, Ole Miss 71
LSU 64, Texas A&M 67
Streak:
Loss 1
Top performer:
Jordan Mickey scored 28 points and pulled down 19 rebounds on the week, but his 13 blocks are what get him top performer of the week honors. He protected the paint in both games while showing off some skills offensively also.
Cause for Concern:
After a monster week, Tim Quarterman came back down to earth this week. He made only 3 of 13 shots and had a very poor 3:5 AST:TO ratio. Against Ole Miss he was held without an assist for only the second time this year.
Top Team Stat of Week:
LSU blocked 20 shots on the week, while LSU was only blocked 6 times.
Rankings and Standings:
CBS RPI (48), ESPN RPI (49), BPI (44), KenPom (59)
Breaking the trend:
Darcy Malone got his first and second starts of his career this past week. He played 8 minutes against Ole Miss and earned more PT with 3 offensive rebounds, no turnovers, and a point. He played a career high 21 minutes against Texas A&M and scored 4 points. He was able to contain Kourtney Roberson who seemed able to back down Mickey at ease when in the game.
Best game by a non Big5 player:
Jalyn Patterson scored 13 points on 5 of 8 shooting, including 3 of 6 from three against Texas A&M. He also added 2 steals. The NBA scout sitting next to me said Patterson "plays with great pace" and said if he can consistently hit his three point shot he would be an interesting professional prospect.
LSU Opponent who made noise:
Sam Houston St continued to tear through the Southland Conference. They have won 8 in a row since losing to LSU and are 5-0 in conference play after beating Southeastern and McNeese St this week. They have currently beaten 4 straight teams from Louisiana over the past 2 weeks.
Interesting Stat of the Week:
Jordan Mickey had 13 blocks on the week. It brought his average up to 3.9 blocks per game and into second in the NCAA. Last season Mickey averaged 3.1 blocks per game. He is averaging 5 per game over the last 5 games.
LSU Scorers this week:
Jarell Martin 30
Jordan Mickey 28
Keith Hornsby 28
Josh Gray 23
Jalyn Patterson 13
Tim Quarterman 12
Darcy Malone 5
LSU Rebounders this week:
Jarell Martin 22
Jordan Mickey 19
Josh Gray 10
Tim Quarterman 10
Keith Hornsby 8
Darcy Malone 6
Jalyn Patterson 1
LSU Assists/TO this week:
Josh Gray 15:7
Tim Quarterman 3:5
Jarell Martin 5:6
Jalyn Patterson 2:0
Jordan Mickey 2:8
Keith Hornsby 6:3
SEC Standings:
Image Link
Most Dominant SEC Win of the Week:
UK 86, Missouri 37. The Wildcats dominated Missouri on Tuesday winning by 49 points in Rupp Arena. They won the rebound battle 46-27 and scored an amazing 1.39 points per possession while holding Missouri to 0.6 per possession.
Biggest SEC Upset of the Week:
Auburn 71, South Carolina 68. It's tough for me to call any road game an upset in the SEC, but Auburn beating South Carolina definitely fits. Auburn went 26-33 from the free throw line and pulled off the upset over South Carolina, a team who has already beat 2 top 25 teams.
Recruiting News:
In LSU's home loss to Texas A&M, Tiger fans had their first look at new transfer Craig Victor on the sideline. He looked all of 6'9" and built better to be a post defender than Jordan Mickey. Here is a picture of him during warmups:
Image Link
This week in LSU Basketball:
Tuesday: LSU @ Florida 6pm ESPN
Saturday: LSU @ Vanderbilt 5pm ESPNU
***Big week for LSU as they hit the road twice in two of the most difficult places to play in the SEC. After fumbling a lead against Texas A&M, LSU needs to get one or both of these road games.
Popular Stories