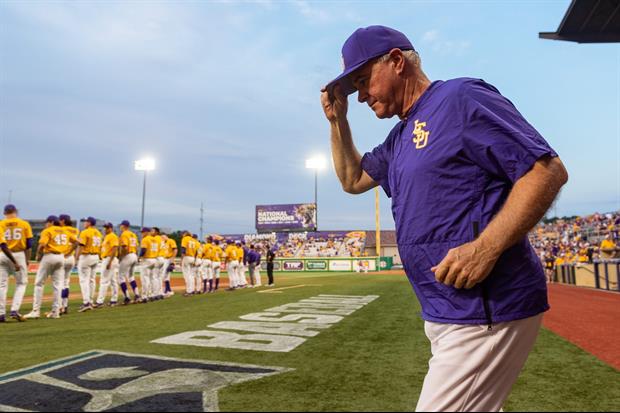 SCOTT CLAUSE/USA TODAY Network via Imagn Content Services, LLC
LSU Baseball Report

For Immediate Release – June 11, 2021

NCAA Knoxville Super Regional

LSU Tigers (38-23) vs. Tennessee Volunteers (48-16)

DATES/TIMES
·Saturday, June 12 @ 6 p.m. CT (ESPN2)
·Sunday, June 13 @ 11 a.m. or 2 p.m. CT (ESPN2 or ESPNU)
·Monday, June 14 (if necessary) @ 3 or 6 p.m. CT (ESPN2 or ESPNU)

STADIUM
·Lindsey Nelson Stadium in Knoxville, Tenn.

RADIO
·LSU Sports Radio Network affiliates
·Live audio at www.LSUsports.net/live; Live stats at www.LSUstats.com

TV/ONLINE
·Game 1 (ESPN2); Game 2 (ESPN2 or ESPNU); Game 3 (ESPN2 or ESPNU)
·All three games will be streamed on ESPN3

RANKINGS
·LSU – No. 28 NCAA RPI
·UT – No. 3 NCAA Tournament National Seed

SERIES RECORD VS. TENNESSEE

LSU leads the all-time series with Tennessee, 58-25, and this weekend's series marks the second meeting between the clubs this season ... UT swept a three-game SEC regular-season series from LSU on March 26-28 by a combined total of four runs ... the series earlier this season marked the first meeting between the clubs since 2018, when the Tigers swept three games from the Volunteers in Baton Rouge ... LSU has won 14 of its last 18 games versus UT.

LSU HISTORY IN THE NCAA TOURNAMENT

LSU is in the NCAA Tournament for the ninth straight time and for the 33rd time overall ... LSU is appearing in its 15th Super Regional and the Tigers are seeking their ninth super regional title ... the Tigers were an NCAA Tournament Top 8 National Seed for an NCAA-record six straight seasons (2012-17) ... LSU has six national championships (1991, 1993, 1996, 1997, 2000, 2009), the second-most in NCAA history ... LSU has the second-highest all-time NCAA Tournament winning percentage (.709, 161-66) .... LSU has an 18-14 (.563) all-time record in NCAA Super Regional games - the Tigers are 17-9 at home and 1-5 on the road in Super Regional contests ... LSU has never won a Super Regional series on the road; the Tigers have suffered defeats at Alabama (1999), at Tulane (2001) and at Rice (2002).

PITCHING MATCHUP (Game 1)
LSU – Sr. RH Ma'Khail Hilliard (6-0, 4.56 ERA, 49.1 IP, 12 BB, 47 SO)
UT – Jr. RH Chad Dallas (10-1, 4.27 ERA, 90.2 IP, 19 BB, 106 SO)

ABOUT THE TIGERS
LSU is No. 28 in the most recent official NCAA RPI rankings, and the Tigers are No. 3 nationally in strength of schedule … LSU won five of its last seven SEC regular-season series, including the last three in a row … after a 1-8 start in SEC play, LSU was 12-9 over the final seven SEC weekends … LSU won four of its five SEC road series this season ... after losing its opening game of the NCAA Eugene Regional, 3-0, to Gonzaga last Friday, the Tigers recorded elimination game wins over Central Connecticut State (6-5 in 10 innings), Gonzaga (9-4) and Oregon (4-1 and 9-8) ... LSU's effort in the Eugene Regional marked the first time in program history that the Tigers won a regional after losing their first game of the tournament ... LSU is also one of only four teams since 1999 to win a regional on the road after dropping its first game.

HEAD COACH PAUL MAINIERI
LSU coach Paul Mainieri announced on May 28 that he is retiring from coaching at the end of LSU's 2021 season ... he is No. 1 among active NCAA Division I Baseball coaches with 1,505 career wins in 39 seasons (six seasons at St. Thomas, six seasons at Air Force, 12 seasons at Notre Dame and 15 seasons at LSU) … Mainieri is No. 7 all-time among NCAA Division I Baseball coaches with the 1,505 career victories … LSU's 13-6, 12-inning win at Texas A&M on May 21 marked the 1,500th victory of Mainieri's collegiate career – he is only the fifth NCAA Division I Baseball coach to win 1,500 games and a national championship – the other four who have accomplished the feat are Augie Garrido (Cal State Fullerton/Texas), Gene Stephenson (Wichita State), Jim Morris (Miami) and Mark Marquess (Stanford) ... Mainieri last week won his 10th NCAA Regional title - he has recorded nine regional championships at LSU (2008, 2009, 2012, 2013, 2015, 2016, 2017, 2019, 2021) and one at Notre Dame (2002) ... Mainieri's career record in NCAA Super Regional games is 13-8 (11-7 at LSU, 2-1 at Notre Dame ... he's won five Super Regional titles at LSU (2008, 2009, 2013, 2015, 2017) and one at Notre Dame (2002) ... his overall NCAA Tournament career record is 75-44 (.630).

TIGERS IN THE NCAA EUGENE REGIONAL
LSU hit .282 as a team in the regional with 11 doubles, three triples and eight home runs ... the Tigers scored 28 runs on 48 hits in five games ... LSU's pitching staff recorded a 4.00 ERA in the regional while limiting opponents to a .234 batting average ... the Tigers have allowed nine doubles, one triple and three home runs in five games.

Junior leftfielder Gavin Dugas was named the MVP of the regional, as he hit .438 (7-for-16) with one double, two triples, three homers, six RBI and seven runs.

LSU hitters named to the regional all-tournament team included freshman rightfielder Dylan Crews, sophomore second baseman Zach Arnold and freshman

shortstop Jordan Thompson ... Crews hit .476 (10-for-21) in the regional with two doubles, one triple, three homers, four RBI and six runs ... Arnold batted .412

(7-for-17) in five games with one homer, one RBI and three runs scored ... Thompson hit .333 (6-for-18) with two doubles and two RBI.

LSU pitchers named to the all-tournament team included junior right-hander AJ Labas and freshman left-hander Javen Coleman ... Labas worked eight innings to defeat Gonzaga in a elimination game on June 6, allowing four runs on six hits with two walks and eight strikeouts ... Coleman defeated Oregon as a reliever in the first game of the championship round, limiting the Ducks to one run on three hits in six innings with three walks and six strikeouts.

ABOUT THE VOLUNTEERS
·Tennessee won the 2021 SEC Eastern Division title with a 2010 league record … the Vols were the runners-up in the SEC Tournament, falling to Arkansas in the championship game … UT played host to the NCAA Knoxville Regional last weekend and defeated Wright State and Liberty (twice) on advance to the Super Regional.

·Tennessee is hitting .281 as a team with 128 doubles, 12 triples, 92 homers and 71 stolen bases in 89 attempts … the Vols are led at the plate by infielder Liam Spence, who is hitting .346 with 11 doubles, two triples, five homers, 34 RBI and 62 runs scored … four UT players have reached double figures in home runs – first baseman Luc Lipcius (15), outfielder Jordan Beck (14), outfielder Evan Russell (13) and infielder Max Ferguson (12) … outfielder Drew Gilbert has a team-best 60 RBI.

·Tennessee has the best cumulative ERA (3.42) among SEC teams – Game 1 starting pitcher Chad Dallas is No. 4 in the SEC in wins (10), and he's No 9 in the league in strikeouts … reliever Sean Hunley is fourth in the SEC with eight saves, and he's seventh in the league in ERA (3.04).
Popular Stories