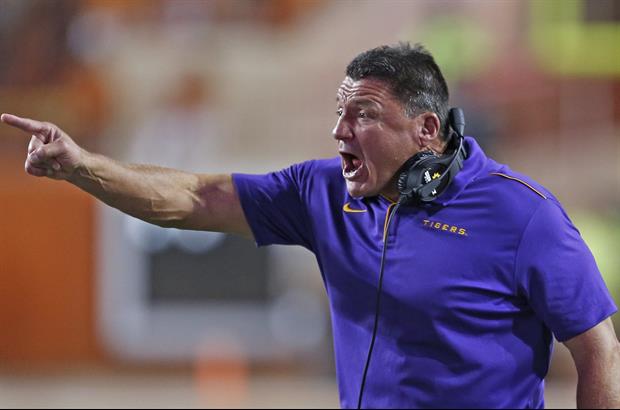 Ronald Cortes-USA TODAY Sports
LSU ATHLETIC COMMUNICATIONS

For Immediate Release - September 9, 2019

LSU'S ED ORGERON NAMED DODD TROPHY NATIONAL COACH OF THE WEEK
BATON ROUGE – LSU's Ed Orgeron has been named The Dodd Trophy Coach of the Week after leading the Tigers to a 45-38 win over ninth-ranked Texas on Saturday in Austin, the Bobby Dodd Coach of the Year Foundation and the Chick-fil-A Peach Bowl announced on Monday.
The Dodd Trophy Coach of the Week award honors a football coach who led his team to a significant victory during the previous week, while also embodying the award's three pillars of scholarship, leadership and integrity.
The win over Texas marked the first time in LSU history that the Tigers beat a Top 10 non-conference opponent in a true road contest. It's also the fifth Top 10 win for Orgeron, who improved to 27-9 as LSU's head coach.
A year ago, Orgeron guided the Tigers to a school-record four Top 10 wins as LSU posted a 10-3 overall mark and finished the season ranked No. 6 in the nation.
Of Orgeron, Peach Bowl CEO and President Gary Stokan said, "Coach Orgeron led his Tigers to victory in what appears to be one of the biggest out-of-conference showdowns of the season. He's done a phenomenal job leading his program both on and off the field in Baton Rouge, and appears to have LSU primed to be a College Football Playoff contender this season."
Jim Terry, the chairman of the Bobby Dodd Coach of the Year Foundation said, "There are few coaches in the country whose impact on the overall culture of a program can be felt as significantly as coach Orgeron. In only his third season with the Tigers, he's setting new records offensively on the field, while also making strides with his players' performance in the classroom and leaving his mark on the community."
Since Orgeron took over the program nearly four years ago, the Tigers have improved in every facet of the program – winning 10 games and the Fiesta Bowl a year ago; improved the team's NCAA Academic Progress Rate (APR) and Graduation Success Rate (GSR); have had 46 players earn SEC Academic Honor Roll distinction and have seen 56 players earn their LSU degree.
The Dodd Trophy presented by the Chick-fil-A Peach Bowl – along with the Dodd Trophy Coach of the Week Award – celebrates the head coach of a FBS team who enjoys success on the gridiron, while also stressing the importance of scholarship, leadership and integrity.
A panel consisting of all previous winners, national media, a member of the Dodd family and a College Football Hall of Fame member will identify the final list of potential recipients at the conclusion of the 2019 season. The winner of the 2019 Dodd Trophy will be announced in Atlanta during bowl week for this year's College Football Playoff Semifinal at the Chick-fil-A Peach Bowl.
Related:
Popular Stories