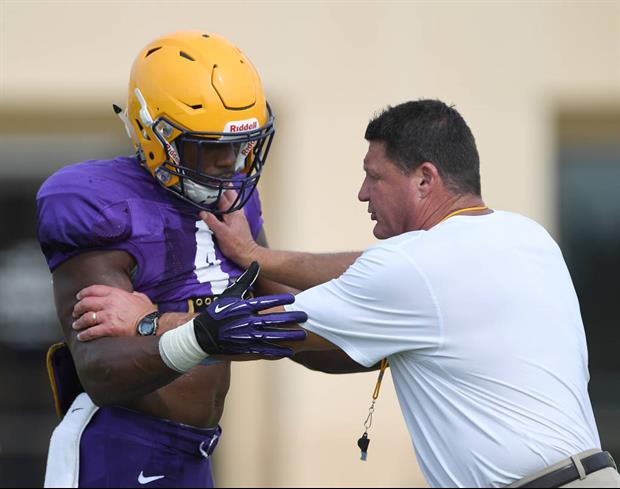 Steve Franz - LSU Athletics
LSU released the 2018 preseason football schedule on Thursday which includes 21 practices and three scrimmages/preseason games inside Tiger Stadium.
The team will report to camp on Friday, Aug 3 and will begin practice on Saturday, Aug 4. The first scrimmage of fall camp will happen on Saturday, Aug. 11 at Tiger Stadium.
Here is the complete schedule, according to
LSUSports.net:
quote:




---

All practices and media events listed below are closed to the public with the exception of Coach O's weekly radio show at TJ Ribs on Acadian Thruway.

Friday, Aug. 3
8:30 a.m.-12 p.m. - Team Reports to West Campus Apartments
1:30 p.m. - Coach O meets with media

Saturday, Aug. 4
4 p.m. - Practice
6:45 p.m. - Coach O meets with media

Sunday, Aug. 5
4 p.m. - Practice

Monday, Aug. 6
4 p.m. - Practice

Tuesday, Aug. 7
4 p.m. - Practice

Wednesday, Aug. 8
4 p.m. - Practice
6:45 p.m. - Coach O meets with media

Thursday, Aug. 9
4 p.m. - Practice

Friday, Aug. 10
No Practice

Saturday, Aug. 11
4:30 p.m. - Preseason Game No. 1 in Tiger Stadium
7:15 p.m. - Coach O meets with media

Sunday, Aug. 12
No Practice

Monday, Aug. 13
4 p.m. - Practice

Tuesday, Aug. 14
4 p.m. - Practice

Wednesday, Aug. 15
4 p.m. - Practice
6:45 p.m. - Coach O meets with media

Thursday, Aug. 16
4 p.m. - Practice

Friday, Aug. 17
4 p.m. - Practice

Saturday, Aug. 18
4:30 p.m. - Preseason Game No. 2 in Tiger Stadium
7:15 p.m. - Coach O meets with media

Sunday, Aug. 19
No Practice

Monday, Aug. 20
7:30 a.m. - Classes Begin at LSU
4:45 p.m. - Practice

Tuesday, Aug. 21
4 p.m. - Practice

Wednesday, Aug. 22
4 p.m. - Practice
7-8 p.m. - Debut of The Ed Orgeron Radio Show presented by Hancock Whitney (live at TJ Ribs on Acadian Thruway) | Listen Free

Thursday, Aug. 23
4 p.m. Practice
6:45 p.m. - Coach O meets with media

Friday, Aug. 24
5:15 p.m. - Practice

Saturday, Aug. 25
11:35 a.m. - Preseason Game No. 3 in Tiger Stadium
1:05 p.m. - Coach O meets with media

Sunday, Aug. 26
No Practice

Monday, Aug. 27
Game Week 1 vs. Miami (Fla.)
12:30 p.m. - Coach O Press Luncheon (Subway Fresh Take with Coach O begins at 12:10 p.m. CT) | Listen Free
4:30 p.m. - Practice

---
Related:
Popular Stories