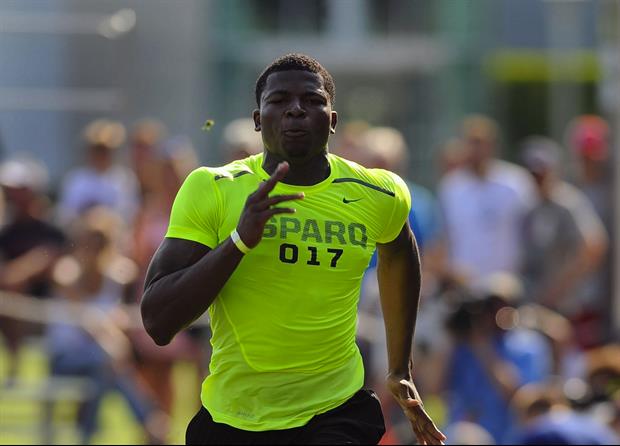 Steve Dykes-USA TODAY Sports
Over the weekend defensive end Lorenzo Carter took his first official visit to LSU. Carter is 6'5, 235 lb and is ranked the No. 36 overall player on Rivals Top 100.
AJC.com
got a chance to interview Carter about his visit to LSU, and here are few things he had to say:
Asked to rate the visit from 1-10 and why?:
quote:




---

"About an 8.5. Because I wouldn't say it was a 10, I don't like giving people perfect scores, nobody is perfect, but it was up there."


---
Asked what his most memorable thing Les Miles said to him:
quote:




---

"Just don't be scared to go down to LSU. Don't be scared to leave the state and I think that was big because a lot time people say I should stay in-state and represent Georgia, but I still have to look at other options."

---
Discussed Florida and Georgia as favorites, asked where LSU fits in now after the visit?
quote:




---

"I think they have a pretty good chance now. Going into the visit, they we're a little behind but that was just because how late the came in, but I think they did a good job."

---
Main reason that he is considering LSU?
quote:




---

"Defensive Line. You can look back at the lineage and throughout the years and they sent defensive linemen to the NFL and thats my goal."

---
AJC.com and Carter also discussed Georgia and FSU.
See the full interview here.
Related:
Popular Stories