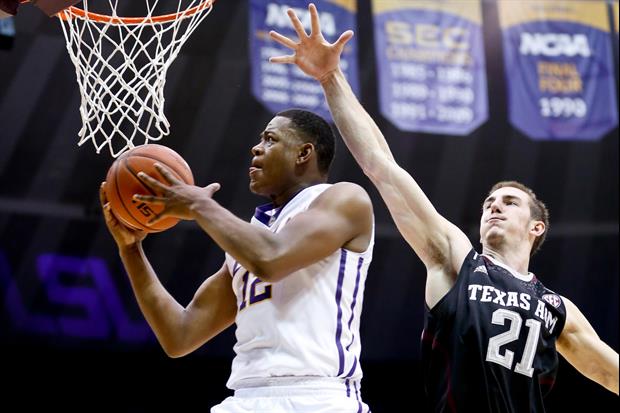 Derick E. Hingle-USA TODAY Sports
For the first time this season, LSU held an opponent to under 50 points in a game. The Tigers defense was led by Jordan Mickey who blocked 5 shots to pull within 8 blocks away from being the second player in LSU history to record 100 blocks in a season. As a team, LSU was able to force A&M to take contested jump shots rather than allowing them to get to the rim.
On offense, Jarell Martin had his second 20 point game in the last week after making 4 of 5 threes. He finished with 20 points and 7 rebounds. O'Bryant scored 15 and had 9 rebounds and Anthony Hickey tied his career high in assists for the second straight game after dishing out 8 dimes. After only scoring 2 points in the two teams first meeting, Andre Stringer hit 3 of 7 from beyond the arc and scored 11 points and had 3 assists. Shavon Coleman was one away from a career high with 4 assists and 0 turnovers.
LSU was killed by Jamal Jones in their first meeting after he hit 5 of 10 from three point range and scored 19. The Tigers forced him into a 0 of 5 shooting from deep this time around and only 7 points. As a team, Texas A&M only shot 30.8%. The Aggies had a 6:9 AST:TO ratio while LSU had a very nice 18:12 ratio.
LSU was also able to get the reserves in the game. Darcy Malone hit a three pointer to bring his season three point average to 42.9% (Get that Aussie the rock). To the chagrin of the crowd, "Legendary walk-on" Henry Shortess did not get a shot off. Last night also gave us all the opportunity to appreciate having Joe Dean Jr calling SEC games. His rendition of "The Way It Is" by Bruce Hornsby was inspiring.
In the end, LSU took care of business against a mediocre Aggie team. However, LSU's biggest test comes this weekend when they head to the O-Dome to take on the #1 team Florida Gata. :GoGata:.
Joe Lunardi told Joe Dean Jr yesterday he felt the Tigers would need to win 3 of their last 4 (2 of last 3 now) plus make it to the SEC Tournament Championship. Winning at Florida may make the road even easier, but beating Florida is no way an easy task. Still, LSU played inspired last weekend against Kentucky, and Florida has allowed teams to stay close lately.
With three games left, LSU has a chance to have their first 20 win team since 2009.
Highlights
Popular Stories