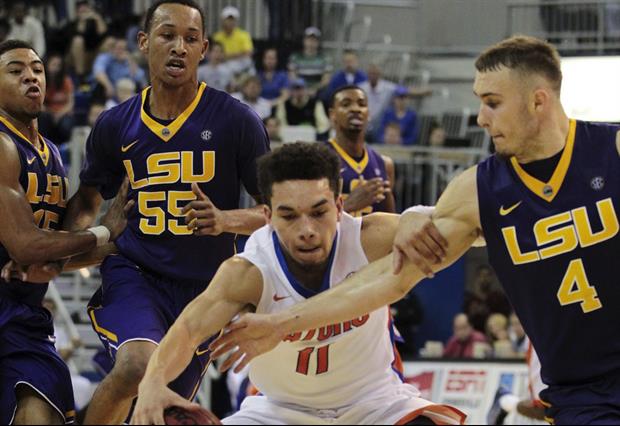 Reinhold Matay-USA TODAY Sports
Who:
LSU Tigers (14-4, 3-2) @ Vanderbilt Commodores (11-7, 1-4)
When:
Saturday, January 24th - 5:00pm cst
Where:
Memorial Gym (14,316 - 39TH NCAA) Nashville, TN
How:
***
TV:
ESPNU
***
Radio:
98.1FM
***
Stream:
ESPN3.com
Anytime you can get out of Florida's O-Dome with a win you have to be happy, but leaving the O'Connell Center with an 18 point complete victory like LSU did on Tuesday is a confidence building experience. The Tigers will need that experience when they travel to another one of the SEC's more difficult facilities this weekend. While normal courts host the team benches along the side of the court, Memorial Gym has the benches along the baselines. This can affect the way coaches can communicate with his players, especially when they are on the opposite side of the court.
Not only do the Tigers have to deal with the gym, but they have to deal with a very pesky Vanderbilt team. Vanderbilt fields the youngest team in the SEC and the 4th youngest in all of college basketball. They will play five freshman, three of which will start. The Commodores also have three of the best three point shooters in the SEC. Freshman SG, Riley LaChance, has made 35 three pointers at a 42.2% rate, 6'5" freshman, Matthew Fisher-Davis, has made 46.2% of his deep balls (30/65), and seven foot sophomore, Luke Kornet, has made 23 three's at a 39% clip.
Projected Starting Lineups:
Image Link
Vanderbilt brings both patience and length into the equation. The 'Dores have the 290th fastest pace in college basketball, a vast difference from LSU, who has the 6th fastest pace. They are also 15th in the NCAA in effective height.
Their Achilles heel however is turnovers. They have been especially prone to turning it over against fast paced teams. They turned it over 22 times against Arkansas (2nd fastest SEC team behind LSU). LSU will look to get transition buckets, and one way they will try and do that is to get steals.
Matchup To Watch:
I'm very interested to see who LSU tries to use to guard Vanderbilt center,
Damian Jones
. He has scored 10+ in all but one game this year and at 6'10" 240 would likely be able to bully Jordan Mickey around. I think LSU will counter with
Darcy Malone
to start the game. Malone proved to be able to stop Texas A&M forward Kourtney Roberson one-on-one and he will likely be asked to try to do the same in this matchup.
Keys to the Game:
Pace:
LSU averages 73.2 possessions per game while Vanderbilt only averages 64.7 possessions per game. The Tigers will want to push the tempo and play pressure defense. That doesn't mean LSU should be patient on offense, but when they can run, they need to get to attack on the break.
Protecting the Perimeter:
Vanderbilt has some very quality shooters and LSU will really have to guard the three point line. As a team they hit 38.5% from three. Seven footer Luke Kornet can really spread the floor and LSU will need to go out and guard him.
Staying out of Foul Trouble:
Damian Jones is drawing 7.2 fouls per 40 (21st in NCAA) and James Siakam is drawing 5.3 per 40 (230th in NCAA). Mickey and Martin have both been good about staying in games and not getting into foul trouble, but this game will push them to be fundamentally sound defensively.
Prediction:
LSU 72, Vanderbilt 67
Popular Stories