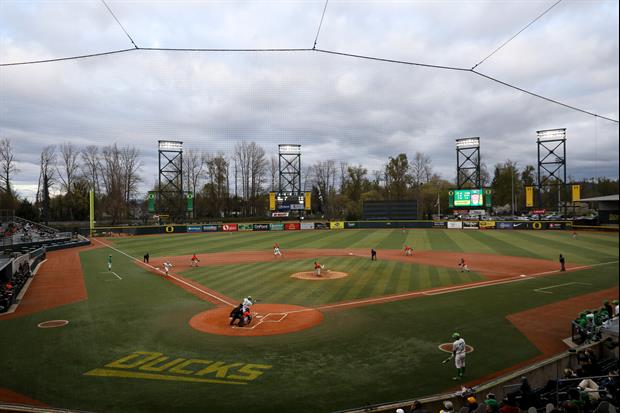 BRIAN HAYES / STATESMAN JOURNAL via Imagn Content Services, LLC
LSU Baseball Report
For Immediate Release – June 3, 2021

NCAA Eugene Regional

No. 3 seed LSU Tigers (34-22) vs. No. 2 seed Gonzaga Bulldogs (33-17)

DATE/TIME
·Friday, June 4 @ 9 p.m. CT

STADIUM
·PK Park in Eugene, Ore.

RADIO
·LSU Sports Radio Network affiliates
·Live audio at www.LSUsports.net/live; Live stats at www.LSUstats.com

TV/ONLINE
·The game will be televised on ESPNU and streamed on ESPN3
*Friday's LSU-Gonzaga game will be televised on ESPNU, following the UCLA-North Carolina game. The LSU-Gonzaga game may still begin on ESPN3, but it will also appear on ESPNU once the UCLA-UNC game is over.

RANKINGS
·LSU – No. 28 NCAA RPI
·GU – No. 27 NCAA RPI

SERIES RECORD VS. GONZAGA
Friday's game marks the first baseball meeting between LSU and Gonzaga. The Tigers are 6-2 all-time against teams from the West Coast Conference - LSU is 3-0 vs. St. Mary's, 2-0 vs. Pepperdine, 1-1 vs. BYU and 0-1 vs. Loyola Marymount.

LSU HISTORY IN THE NCAA TOURNAMENT
LSU is in the NCAA Tournament for the ninth straight time and for the 33rd time overall ... the Tigers were an NCAA Tournament Top 8 National Seed for an NCAA-record six straight seasons (2012-17) ... LSU has six national championships (1991, 1993, 1996, 1997, 2000, 2009), the second-most in NCAA history ... LSU has the second-highest all-time NCAA Tournament winning percentage (.707, 157-65) .... LSU has a 99-24 (.805) all-time record in NCAA Regional games, including an 86-17 (.835) mark at home regionals and an 13-7 (.650) record in regional games on the road.

PITCHING MATCHUP
LSU – Jr. RH Landon Marceaux (6-5, 2.26 ERA, 91.2 IP, 22 BB, 107 SO)
GU – Jr. RH Alek Jacob (7-1, 2.82 ERA, 76.2 IP, 17 BB, 103 SO)

ABOUT THE TIGERS
LSU is No. 28 in the most recent official NCAA RPI rankings, and the Tigers are ranked No. 3 nationally in strength of schedule … LSU won five of its last seven SEC regular-season series, including the last three in a row … after a 1-8 start in SEC play, LSU was 12-9 over the final seven SEC weekends ... LSU has won nine of its last 14 games overall … the Tigers won four of their five SEC road series this season – at Kentucky, at Ole Miss, at Auburn and at Texas A&M.

Paul Mainieri
LSU coach Paul Mainieri announced on May 28 that he is retiring from coaching at the end of LSU's 2021 season ... he is No. 1 among active NCAA Division I Baseball coaches with 1,501 career wins in 39 seasons (six seasons at St. Thomas, six seasons at Air Force, 12 seasons at Notre Dame and 15 seasons at LSU) … Mainieri is No. 7 all-time among NCAA Division I Baseball coaches with the 1,501 career victories … LSU's 13-6, 12-inning win at Texas A&M on May 21 marked the 1,500th victory of Mainieri's collegiate career – he is only the fifth NCAA Division I Baseball coach to win 1,500 games and a national championship – the other four who have accomplished the feat are Augie Garrido (Cal State Fullerton/Texas), Gene Stephenson (Wichita State), Jim Morris (Miami) and Mark Marquess (Stanford).

Tre' Morgan, 1B - Second-Team All-SEC, Freshman All-SEC, SEC All-Defensive Team
Freshman first baseman Tre' Morgan is No. 2 in the SEC in cumulative batting average (.370), No. 2 in hits (81), No. 2 in runs scored (60), No. 4 in triples (4), No. 3 in doubles (15), No. 3 in on-base percentage (.462) and No. 6 in stolen bases (14) ... he is hitting .426 (26-for-61) in his last 14 games with three doubles, one triple, one homer, seven RBI, 18 runs and four stolen bases

Dylan Crews - Second-Team All-SEC, Freshman All-SEC
Freshman rightfielder Dylan Crews enters Friday's game versus Gonzaga riding a nine-game hitting streak … Crews is No. 8 in the SEC in batting average (.350), No. 8 in hits (76), No. 5 in runs scored (56), No. 4 in total bases (131), No. 6 in on-base percentage (.449) and No. 9 in walks (37).

Landon Marceaux - Second-Team All-SEC
Junior right-hander Landon Marceaux is No. 4 in the SEC in cumulative ERA (2.26), and he is No. 1 in the league in innings pitched (91.2) and No. 5 in the league in strikeouts (107) … he fired his first career complete game on May 25 vs. Georgia in the SEC Tournament, allowing four runs on nine hits in eight innings with three walks and nine strikeouts ... Marceaux posted a streak earlier this season of 33.2 consecutive innings without allowing an earned run.

ABOUT THE BULLDOGS
·Gonzaga is 33-17 overall, and the Bulldogs won the West Coast Conference regular-season title with a 20-7 mark … Gonzaga has a team batting average of .279 with 102 doubles, 33 home runs and 38 steals in 57 attempts … the Bulldogs pitching staff has an ERA of 4.43 and is limiting opponents to a .240 batting average.

·The Bulldogs are led at the plate by infielder Brett Harris, who is hitting .353 with 17 doubles, one triple, six homers, 42 RBI and 51 runs scored … infielder Andrew Orzel is second on the club with 13 doubles and 34 RBI, and he also has three homers … catcher Tyler Rando is third on the team with 30 RBI, and he has 11 doubles and three homers.

·Gonzaga head coach Mark Machtolf played on the Stanford team that defeated LSU in an elimination game of the 1987 College World Series … Machtolf is in his 18th season as Gonzaga's coach.
Popular Stories