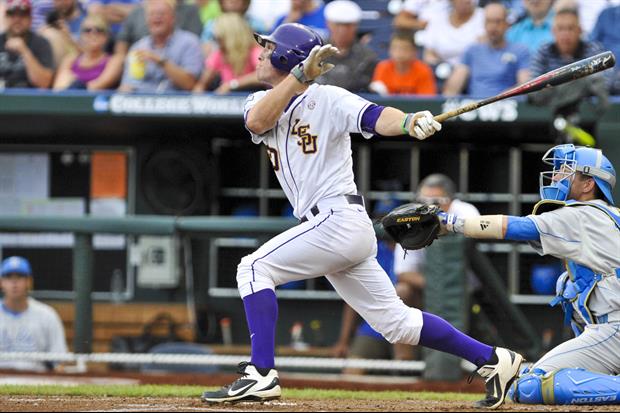 LSU shortstop Alex Bregman and pitcher Aaron Nola were selected as Preseason College All-Americans by
PerfectGame.org.
Both players had outstanding seasons last year with Nola being selected as the 2013 SEC Pitcher of the Year, and Bregman winning the 2013 Brooks Wallace Award as the nation's top shortstop. Here is what PerfectGame.org had to say about the two:
quote:




---

Designated Hitter
Alex Bregman, Louisiana State

2013 Stats:
.369 AVG, 18 2B, 7 3B, 6 HR, 52 RBI, 24 BB, 25 SO, 16 SB

Bregman had absolutely no problem meeting lofty expectations last season. Bregman entered the season as a heralded freshman and didn't disappoint, displaying very good gap power, an advanced offensive approach, and of course, doing a nice job at the shortstop position. Bregman gets placed at the designated hitter spot because of Turner, but make no mistake about it, he's an advanced overall player and likely the top MLB draft prospect for the 2015 college class.

---
quote:




---

Starting Pitcher
Aaron Nola, Louisiana State

2013 Stats:
1.57 ERA, 126 IP, 122 K, 18 BB, .188 OPP BA]

The Tigers had one of the nation's best teams and rotations last season, and it should be much of the same this spring with Nola and lefthanded pitcher Cody Glenn leading the charge. Nola, a 6-foot-1, 183-pounder, is Mr. Command out on the mound, as evidenced by his incredibly low walk total from last season. From a stuff standpoint, Nola has a fastball that typically sits in the low-90s. However, he can get up to 94 at times. Meanwhile, his curveball sits in the upper-70s, along with a low-80s changeup.

---
LSU begins practice this Friday with the season opener being less than a month away. The first pitch of the LSU season will come on Feb. 14 against New Orleans at Alex Box Stadium.
Popular Stories