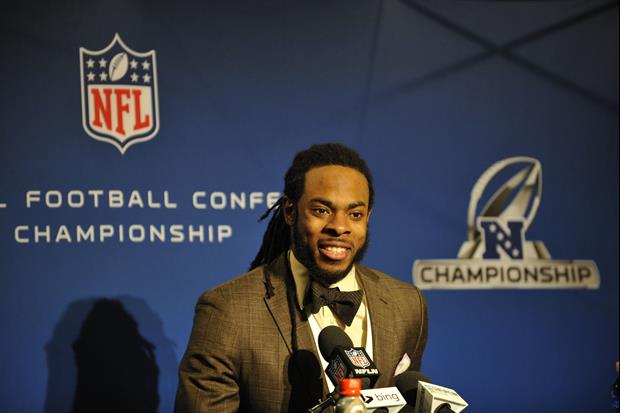 Steven Bisig-USA TODAY Sports
Seattle Seahawks DB Richard Sherman sat down and wrote an article for Sports Illustrated that explains the entire story between him and Michael Crabtree at the end of the NFC Championship game last night. That exchange led to Sherman hulking out during an interview with FOX's Erin Andrews and continued in other aggressive post game pressers...
quote:




---

Near midnight I still had about 70 unread text messages from friends and family, most of which read, "Best interview ever!" Many of my Twitter mentions were less supportive. My body ached. I was thrilled and proud and upset, all at once.

Here's what happened …

I spent most of the game on an island: I was targeted only twice during the entire NFC Championship. The first produced a BS holding call against me; the second ended the game. Michael Crabtree stutter-stepped out of his break on first down and sprinted toward the end zone. I was in good position for a pick until he pushed me in the back. My interception became a tip and an interception for Malcolm Smith in the end zone.

Game over. The Seahawks are in the Super Bowl.

I ran over to Crabtree to shake his hand but he ignored me. I patted him, stuck out my hand and said, "Good game, good game." That's when he shoved my face, and that's when I went off.

I threw a choking sign at 49ers quarterback Colin Kaepernick. Why? Because he decided he was going to try the guy he was avoiding all game, because, I don't know, he's probably not paying attention for the game-winning play. C'mon, you're better than that.

Erin Andrews interviewed me after the game and I yelled what was obvious: If you put a subpar player across from a great one, most of the time you're going to get one result. As far as Crabtree being a top-20 NFL receiver, you'd have a hard time making that argument to me. There are a lot of receivers playing good ball out there, and Josh Gordon needed 14 games to produce almost double what Crabtree can do in a full season. And Gordon had Brandon Weeden, Brian Hoyer and Jason Campbell playing quarterback.


But that's not why I don't like the man. It goes back to something he said to me this offseason in Arizona, but you'd have to ask him about that. A lot of what I said to Andrews was adrenaline talking, and some of that was Crabtree. I just don't like him...

---
You can read the entire article
here
.
Related:
Popular Stories